CORDOBA
TROLLEYBUS NETWORK



---
[as of 2015 ]
City
Founded: 06.07.1573
Population: 1 309 536 (2008)
Location: Cordoba
Network Stats
Operator: Transporte Automotor Municipal Sociedad del Estado (TAMSE)
Horse tram opened: 1879
Electric tram opened: 22.08.1909
Horse tram closed: 1925
Electric tram closed: 1963
Trolleybus system opened: 07.05.1989
Overhead length: 49,4 km. (one-way)
Number of routes: 2
All time maximum number of routes: 3
Number of passenger vehicles: 42
Number of vehicles required for service: ~20
Network map: 2010
Timetable: 2014
TAMSE originally operated trolleybuses only, however starting from 2012 it was forced to acquire a number of articulated diesel buses to supplement for a shortage of trolleybuses. Nevertheless, the company experiences a perpetual shortage of rolling stock - with trolleybuses and diesel buses alike. In addition, in Spring 2014 employees staged a strike alleging appalling work conditions due to aging rolling stock. The work was resumed only when 7 new trolleybuses were promised by the mayor of the city. This work action also meant that a number of old Russian-built ZiU trolleybuses were pushed out of service. Consequently, by the end of 2014 the Line A was not operated due to rolling stock unavailability. The Lines B and C were operated with a mix of trolleybuses and diesel buses. The remaining operable trolleybuses couldn't cover even the off peak service. During off peak hours trolleybuses and diesel buses operated at the rate of about 4-to-1 on the Line B, and 3-to-1 on the Line C. During peak hours the rate was 2-to-1 on the Line B, and practically 1-to-1 on the Line C. Trolleybuses usually operated all day long, their numbers in service did not fluctuate between off peak and peak hours, while weekday peak service spikes were covered entirely by additional diesel buses. A known Córdoba practice of off peak storage of trolleybuses at storage yards at terminals was no longer practiced. One active spare vehicle was kept at both the Pueyredon Terminal (Line B), and the San Vicente Terminal (Line C).
The service is frequent and fairly reliable. Frequencies of service are publicized. The peak hour frequencies are followed as announced, however the actual off peak frequencies are slightly better than those publicized.
All TAMSE drivers and dispatchers are women, an official provision dating back to an attempt to promote employment of women in the public sector at the time when the company was established. All maintenance and security personnel are men. The management is split about 50/50 along gender lines.

Rolling Stock
[ 2015 / total ]
BKM 33300A low floor : 1 / 1 (2010)
Shenfeng SY-D60C : 0 / 9 (2000)
ZiU-683B articulated : 11 / 12 (2011) incl. 11 modernized
ZiU-682G10 : 2 / 2 (1992) modernized
ZiU-682V10 : 28 / 30 (1988) incl. 3 modernized
ZiU-682UA : 0 / 5 (1984) ex. Mendoza (2009)

2 ZiU-682V10 and 2 ZiU-682G10 vehicles 04,30,43,44 were heavily modernized at the Galicia factory, including bodywork alterations. At the end of 2014 ZiU-682V10 number 21 was modernized in-house at the Depot, however the original ZiU design was preserved. All remaining 1991 articulated ZiU-683B vehicles on the property are heavily rebuilt. There are no articulated ZiUs in the original state left.
The last Chinese-built Shenfeng SY-D60C trolleybuses, delivered in 2000, were phased out of service in 2013. The three 1984 single ZiU-682UA trolleybuses, transferred second hand from Mendoza in 2009, vehicles 61,62,64 (distinguishable by 3 doors), were phased out of service in 2014, and used for parts. Another two ex-Mendoza vehicles 17 and 18 were never used in Córdoba and were cannibalized for parts. Both retained their Mendoza numbers and Mendoza livery. There is no relation to Córdoba original ZiU-682V10 vehicles, also numbered 17 and 18, that are still operated.
The only Belarus-built BKM-33300A vehicle number 63, which was meant to be a test trolleybus, delivered in 2010 amid heavy subsidy from the manufacturer, ended up in a severe accident around 2012-13, with the entire front damaged. After years in storage, it was rebuilt back into the original state in 2014.
On the Line C 2-axle single ZiU-682V10 trolleybuses are used in mixed service with articulated diesel buses, both operating at the same frequencies. On the Line B generally articulated ZiU-683B trolleybuses and articulated diesel buses are operated, however, single modernized 2-axle ZiU-682V10/G10 are sometimes also used, operating at the same frequencies as articulated vehicles. This means an uncomfortable vehicle capacity discrepancy for both services.
All female drivers are capable of driving and easily switching between single or artic ZiU trolleybuses, and/or artic diesel buses. However, BKM-33300A trolleybus 63 is considered special, and requires specifically trained drivers.
7 new vehicles were ordered from the Russian manufacturer TrolZa (formerly known as ZiU) in the Spring of 2014 following the official visit to Russia by the mayor of Córdoba. These were supposed to be 2 low floor TrolZa 5265.00 "Megapolis" vehicles with an extra-capacity auxiliary power option, and 5 standard low floor TrolZa 5275.00 "Optima" vehicles. However, this order was not cleared with the Argentinean federal authorities, and funding was never released. The order was canceled, while 2 TrolZa 5265.00 "Megapolis" vehicles already manufactured were sent to the Russian city of Tula.

Photos on map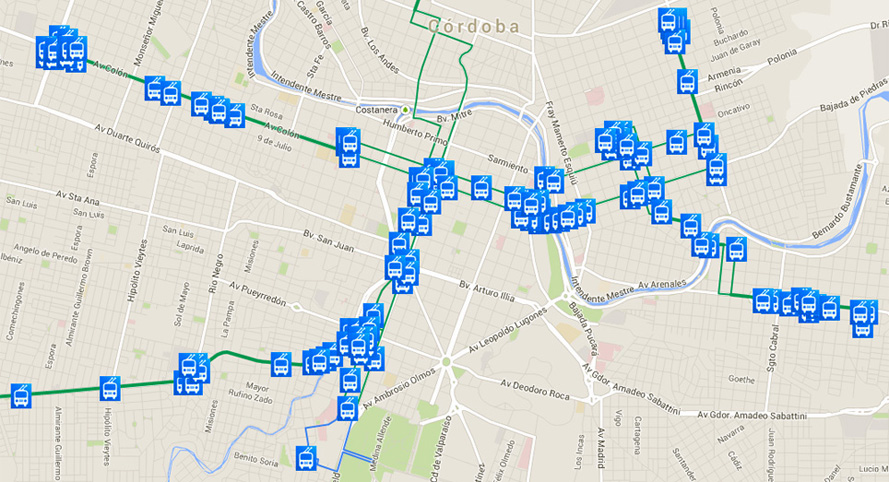 Photo gallery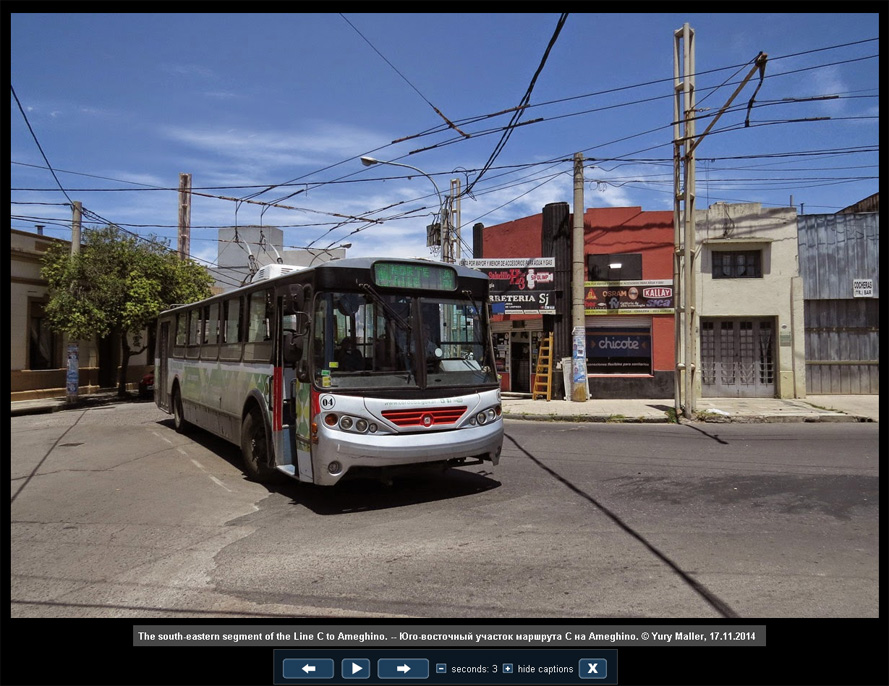 ---
BACK
Last updated: 05-Feb-2015
© 2002 Author: Yury Maller - Usage of material found herein for public display is possible with authors' permission only.
Special thanks:

Vitaliy Radeev - map; Vitaliy Radeev, Aviateur - photo.