GABROVO
TROLLEYBUS NETWORK
Photo Gallery
---

Boulevard Aprilov - Ulitsa Yuriy Venelin - Ulitsa Bryanska - Ulitsa Orlovska
The central node trolleybus line.

Line to Record
An unused line, formerly served by the Routes 30, 32. A site of the northern terminal of the city's first trolleybus line, opened 1987.
Northwest
Rusevtsy Line
The line through developments of apartment blocks, served by the Routes 31, 32 and 33.
Boulevard Mogilyov Line
Construction started, unfinished and abandoned. Some overhead is in place in the northern part of the segment. If the line was finished, a need for diesel buses in the city would be substantially reduced.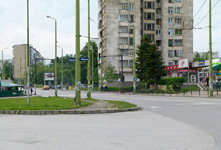 North
Tekhnomat Line
The line to the industrial park and to the Depot. The trolleybus Route 34 operates hourly on weekdays. The Route 32 operates on weekdays with 3 trips in the am rush hour; 2 trips in the pm rush hour. No service on weekedns. The line is not served by diesel bus routes. Consequently transit service in the industrial park is available on weekdays only.
South
Shivarov Most - Bichkinya 1 (Instrument) Line
The line to a large residential neighborhood of Bichkinya in the south of the city, served by the Route 31, which is operated with trolleybuses on weekdays during rush hours only. Published timetables call for the 20 minute headway with each second trolleybus operating the short-turn Route 33 as far as Shivarov Most only, and each other trolleybus operating the longer Route 31 to Bichkinya 1. In reality all trolleybuses operate on the Route 31 to Bichkinya 1 on the 10 minute headway, with no short-turn service on the Route 33 during rush hours. The Route 31 does not operate on weekdays outside of the rush hours, with through diesel bus routes that operate beyond Bichkinya 1 servicing the area instead. Buses often operate overloaded. The Route 31 is operated with diesel buses on weekends all day long.
---
[ Back ]

Photographs by Yury Maller, 11,16.05.2012.
Additional photographs by Kostj Kozlov, 02,03.06.2011.


© 2002 Author: Yury Maller - Usage of material found herein for public display is possible with authors' permission only.