IN MEMORY OF
PLOVDIV TROLLEYBUSES
12.1955 - 01.10.2012



---
[as of 2012 ]
City
Founded: 342-341 BC
Population: 341 041 (2013)
Location: Plovdiv
The second-largest city in Bulgaria. One of the oldest cities in the world, notable for historic and cultural significance, as well as it's architecture. The city is also notable for absence of any coherent modern transportation policy.
Network Stats
System opened: 12.1955
System closed (official date): 01.10.2012
Overhead length: 101,8 km. (one-way)
Overhead used when system closed: 52,1 km. (one-way)
Number of routes: 16
Number of routes when sytem closed: 4
Maximum number of passenger vehicles: ~200
Number of passenger vehicles when system closed: 21 (14 operable)
Operator when system closed: Gradski Transport-Plovdiv AD
Network map: 1985-2012

2012
Official timetable: 2012
A formerly lively trolleybus network that boasted about 200 trolleybuses and 16 routes covering the entire city, experienced a continuous downfall ever since the collapse of the socialist state in Bulgaria in the early 1990s. Trolleybus operation was turned over to a private company. With aging rolling stock and indifferent city government with no coherent transportation policy, by the end of 2000s operation was gradually reduced to a single service, the Line 3. With arrival of 9 trolleybuses from St. Gallen and 15 trolleybuses from Ghent in 2009-2010 (in a latter case following the abandonment of Ghent's trolleybus system), Plovdiv trolleybus operation was given a second chance. The number of services increased to four - the Lines 3, 14, 19 and 134. Nevertheless, about 50% of overhead remained unused. Interestingly, this included a network of trolleybus overhead in the Trakiya development of apartment blocks in the east of the city that was built in the late 1980s, but was never opened for revenue operation.
"Even after the arrival of additional ""Western"" trolleybuses, the service was incoherent as vehicle availability was unpredictable due to poor maintenance. Many trips in the published timetable were simply dropped. In the last year of operation the daily service on average consisted of only 9-12 trolleybuses, with the following breakdown by line:
Line 3: 3-4 trolleybuses
Line 14: 1-3 trolleybuses
Line 19: 2 trolleybuses
Line 134: 2-3 trolleybuses.
Curiously, when specific trips were dropped, there was no attempt to even out service as dispatch was non-existent. This led to unpredictable intervals and, hence, chance boardings with no dedicated passenger base.
"
28 Canadian 1981-built

General Motors/Brown Boveri HR150G "Fishbowl"

trolleybuses were acquired for Plovdiv by a private intermediary in 2009 after the closure of the trolleybus system in Edmonton. Upon arrival at the Bulgarian port of Burgas these trolleybuses were arrested by customs authorities due to a dispute over customs' duties. They were stored on the port's property and sold as scrap metal in 2012. Finally, in 10.2012 the city lost the opportunity to acquire EU funding for purchasing approximately 100 brand-new trolleybuses due to the fact that the operating company was in private hands. Meanwhile, the operator was chronically under performing, fulfilling the service provision clause of the contract with the city at the rate no higher than 30-40%. The contract was finally dissolved and the system was officially closed on 01.10.2012. Intermittent operation continued for a few additional weeks as per operator's and staff's own initiative, so the real last date of trolleybus service in Plovdiv is not known. Following the end of trolleybus operation, the city started the process of overhead removal.

Rolling Stock
As of 2012 total of 21 (14 operable) vehicles:
Škoda 14Tr : 2 (1985) ex-Prešov (1992)
Van Hool AG 280T : 10 (1987) ex-Ghent (2009)
Saurer/Hess GT560 : 9 (1984) ex-St. Gallen (2009)

Vehicles ever used:
MTB-82 : 35 (1955)
Škoda 9Tr : ~85 (1966-1981)
Škoda 14Tr : ~27 (1981-1986) incl. ex. Prešov (3), ex. Sliven (2), ex. Sofia (1)
Chavdar T13-20 : 1 (1982)
Chavdar T14-20 : 3 (1981-1982) articulated
DAC-Chavdar 317ETR : 34 (1985-1990) articulated
ZiU-682V : 54 (1986)
Van Hool AG 280T : 15 (1987) ex-Ghent (2009)
Saurer/Hess GT560 : 9 (1984) ex-St. Gallen (2009)

Škoda 9Tr and Russian-built ZiU-682V trolleybuses operated until the late 2000s, with the last ones scrapped in the Spring of 2012. A single Škoda 9Tr trolleybus 5027 remained in semi-operable condition as a training vehicle until the closure of the system.

Photo gallery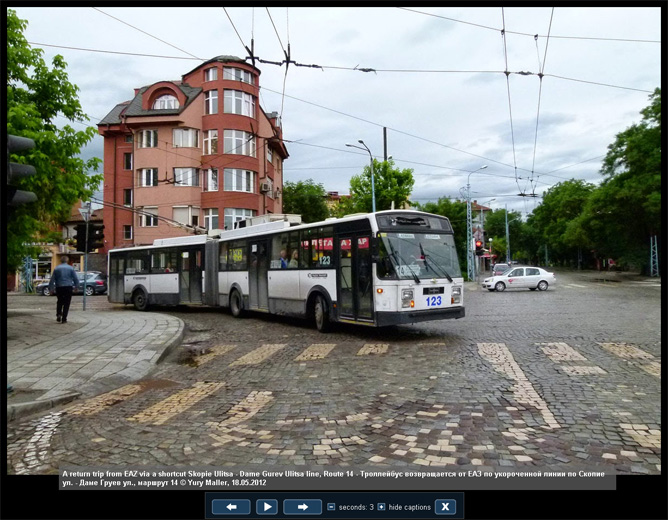 ---
BACK
Last updated: 24-Dec-2014
© 2002 Author: Yury Maller - Usage of material found herein for public display is possible with authors' permission only.
Special thanks: IKS, Ivo Ivanov - maps; Kostj Kozlov, Ivo Ivanov - photos.