STARA ZAGORA
TROLLEYBUS NETWORK



---
[as of 2014 ]
City
Founded: 106 AD
Population: 138 272 (2011)
All-time maximum population: 151 200 (1985)
Location: Stara Zagora
Network Stats
Operator: Troleybusni perevozi EOOD
System opened: 09.1988
Overhead length: 46,8 km. (one-way)
Number of routes: 4
Number of passenger vehicles: 24
Number of vehicles required for service: 20
Passengers carried annually: 2 250 000 (2011)

Network map: 2012
Timetable: 2012
A well run trolleybus operation. Route 1 is not operated on Saturday mornings. Route 26 is not operated on Saturday afternoons and on Sundays. The main dispatch is located at Kv. "Zheleznik" Terminal in the west of the city, so trolleybuses serving route 2 switch to 26 to reach the dispatch for lunch breaks. The line via Ulitsa Industrialna to the Depot, formerly of route 28, is used for Depot journeys only. The unused line to the dormant factory Firma "Beroe" via ZhP Gara, formerly of route 3, is disconnected from the rest of the network, but otherwise intact. Škoda 14Tr 1003 is radically rebuilt beyond recognition. Some other Škoda trolleybuses are cosmetically altered. Low floor LAZ trolleybuses are operated all day long without mid-afternoon down time and are most likely to be observed on route 2. Conductors are used on most trolleybuses. 03.09.2013 a contract is signed for a delivery of 8 low floor Škoda 26Tr Solaris trolleybuses.

Rolling Stock
A total of 24 vehicles:
Škoda 14Tr06 : 6 vehicles (1985), ex-Sofia (1988)
ZiU-682V : 12 vehicles (1987,1988)
LAZ E183D1 : 6 vehicles (2009)

Formerly used vehicles:
DAC-Chavdar 317ETR : 4 vehicles (late 1980s)
Photos on map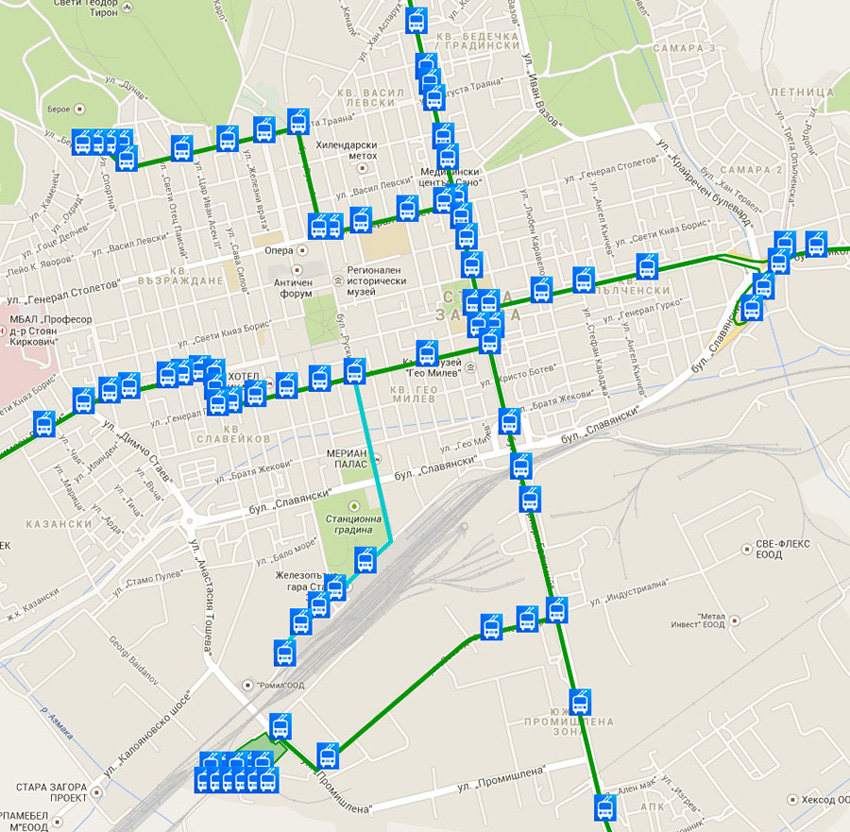 Photo gallery:


Stara Zagora Trolleybus Network
---
BACK
Last updated: 26-Jan-2014
© 2002 Author: Yury Maller - Usage of material found herein for public display is possible with authors' permission only.
Special thanks: AK (Aleksandr), map; Kostj Kozlov.
Stara Zagora Complete Photo Archive