IN MEMORY OF HAMILTON TROLLEYBUSES
10.12.1950 - 30.12.1992
---
[as of 2013 ]
City
Founded: 1846
Population: 519 949 (2011)
Location: Hamilton

Network Stats
Operator: Hamilton Street Railway
Horsecar service: 1874 - 1892
Streetcar service: 1892 - 1951
Trolleybus service: 10.12.1950 - 30.12.1992

Overhead length at it's maximum: 65,7 km. (one-way)

Routes (early version):
King-Barton
Cannon
Routes (late version):
1 King (closed 1987)
2 Cannon (closed 1989)
3 Barton (closed 1992)
Network map: 1959

1969-1992
Trolleybuses replaced streetcars in 1951. There were 3 main corridors: via King/Main Streets, Cannon Street and Barton Street. Unlike other North American trolleybus systems, the network was extended into suburban areas in the 1970s followng the growth of the city. Nevertheless, the system closed line by line between 1987-1992.

Rolling Stock
18 CCF Brill T48 (1950): 701-718
30 CCF Brill T48A (1951): 721-750
40 Flyer E700A (1972-73): 751-790
16 Flyer E800 (1978): 7801-7816

Photos on map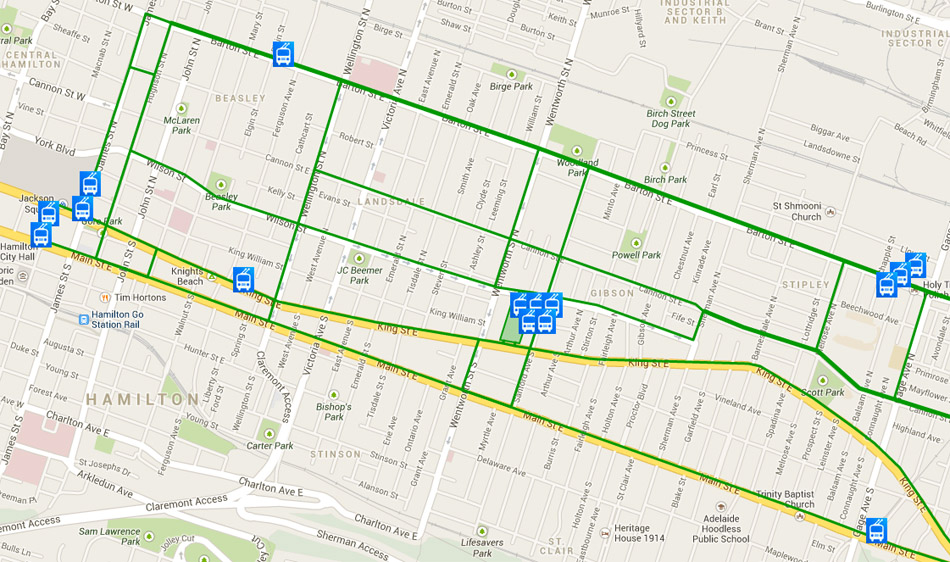 Photoreview
(1984) Photos by Rovert Newhouser
---
BACK
Hamilton Complete Photo Archive
Last updated: 26-Sep-2013
© 2002 - Usage of material found herein for public display is possible with authors' permission only.