VALPARAÍSO
HORSE & ELECTRIC TRAMWAY



---
[as of 2015 ]
City
Founded: 1536
Population (city): 284 630 (2012)
Population (metro): 930 220 (2012)
Location: Valparaíso
The second largest metropolitan area in Chile. A major seaport. The city is built on steep hillsides overlooking the bay of the Pacific Ocean. The old town is protected as a UNESCO World Heritage Site. Valparaíso is known for a rough urban subculture, even though urban dangers are somewhat overstated. The city is vulnerable to earthquakes.

---
Network Stats
Horse tram, Valparaíso: 04.03.1863 - 1907
Horse tram, Viña del Mar: 1888 - 1906
Electric tram, Valparaíso: 26.12.1904 - 30.12.1952
Valparaíso - Viña del Mar electric interurban: 28.01.1906 - 1947
A tramway system with a rich history, most notable for predominantly double-decked rolling stock - both horse trams and electric trams. The system was essentially an interurban, covering Valparaíso proper, as well as the suburb of Playa Ancha to the west, and the adjoining city of Viña del Mar to the east. The horse tram network boasted the 1676 mm gauge, while the electric tramway that replaced it switched to the 1435 mm gauge. The system was operated by a succession of foreign owners, including the Germans and the Spaniards, but was nationalized in 1945. The state-owned enterprise proceeded to dismantle the tramway system in favor of trolleybuses. The last tram ran on the Aduana - Barón route on 30.12.1952, replaced with trolleybuses the following day. Incidentally, this route is also the last surviving trolleybus corridor operated today.
Detailed page on Valparaíso trams by Allen Morrison: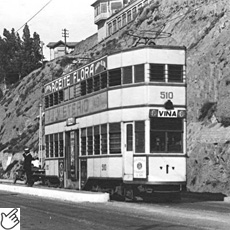 ---
BACK