VALPARAÍSO
TROLLEYBUS



---
[as of 2015 ]
City
Founded: 1536
Population (city): 284 630 (2012)
Population (metro): 930 220 (2012)
Location: Valparaíso
The second largest metropolitan area in Chile. A major seaport. The city is built on steep hillsides overlooking the bay of the Pacific Ocean. The old town is protected as a UNESCO World Heritage Site. Valparaíso is known for a rough urban subculture, even though urban dangers are somewhat overstated. The city is vulnerable to earthquakes.

---
Network Stats
Operator: Trolebuses de Chile, S.A. (TCSA)
Trolleybus system opened: 31.12.1952
Overhead length: 49,4 km. (one-way)
Number of routes: 1
All time maximum number of routes: 4
Number of passenger vehicles: 31
Number of vehicles required for service (2014): ~14
Network map: 2015
Timetable: 2015
The Valparaíso trolleybus system is renowned for the oldest trolleybuses in continuous service in the world. 16 US-manufactured Pullman trolleybuses from 1947-1952, as well as the entire trolleybus infrastructure, are officially awarded a National Monument status. Locally known as troles (trolleys), Valparaíso trolleybuses became one of the symbols of the city.
Following the nationalization of foreign-owned transit operator companies in Santiago and Valparaíso in 1945, the new publicly-owned company took over operations in both cities. Plans to replace old trams with trolleybuses immediately emerged. Trolleybuses ran in Valparaíso for the first time on 31.12.1952, the next day after the tramway system closed. Following the 1973 military coup, the pro-business Pinochet government cut subsidies to public transit operators, and trolleybus systems in both Santiago and Valparaíso quickly deteriorated. The Santiago system closed in 1978, and the Valparaíso system succumbed on 30.11.1981. The assets of the operating company, however, were acquired by private businessmen, and the system in Valparaíso re-opened in 05.1982. Ever since trolleybuses seem to perpetually operate at the fringes of profitability, but their future seems to be secure due to the special status. An attempt to close the system in 2007 due to financial difficulties caused public outcry, and involved interference from the Chilean president.
Valparaíso trolleybus network technically used to be an interurban system. An intercity line from Valparaíso to the adjoining town of Viña del Mar to the east briefly operated between 1959 and about 1964. The line boasted two branches within Viña del Mar, and the suburban depot at Chorrillos. In addition, in the 1950s there were plans for the suburban line to Playa Ancha to the west of Valparaíso, but these never materialized.
The urban trolleybus network always consisted of two lines between Plaza Barón and Aduana: via Avenida Pedro Montt, and via Avenida Colón. The third line, to the uphill neighborhood of Barrio O'Higgins, was built in the mid-1960s, but never opened due to poor performance of trolleybuses' brakes. Since 1991 the Avenida Colón route remains the only surviving trolleybus service. An overhead on Avenida Pedro Montt remains intact. There were attempts to revive the Avenida Pedro Montt route in 2002 and 2007, both unsuccessful due to fierce competition from diesel bus and midi-bus carriers. A one-way stretch of the trolleybus overhead via Avenida Errázurez in the eastbound direction is used during events at Plaza Sotomayor. In addition, the overhead network in the vicinity of the old depot on Avenida Independencia remains intact. Some leftovers of the trolleybus overhead can be found in various places around the city. Trolleybus routes were unnumbered until 2007, when in accordance with a newly implemented regional transportation plan, the Avenida Pedro Montt route was numbered 801, and the Avenida Colón route was numbered 802.
The original centrally located trolleybus depot on Avenida Indepenencia owned by the municipality, formerly a tram depot built by the Germans in 1903, was lost in 2000 to an office building construction. Trolleybus storage and light maintenance were moved into the streets. Long term storage and maintenance were done at the rented lot on Avenida España, located about 1,5 km. away from the overhead network. Long term storage was moved again in 2006 to a lot in a suburban town of Placilla, 10 km. south of Valparaíso. A shed on Calle Van Buren was leased in 2008 and adapted as a trolleybus depot. The company's offices are located on a built-in mezzanine, above the roofs of parked trolleybuses. The shed accommodates about 12-13 vehicles only, thus some trolleybuses are still stored on city streets – on Calle Van Buren near the depot, and on Avenida Argentina near the Plaza Barón Terminal. There is no storage oversight, however, no incidents of vandalism were ever recorded. Upon the arrival of 10 NAW BT 5-25 trolleybuses from Luzerne, starting from 2015 the space on Avenida España is used for trolleybus storage once again. The Depot on Calle Van Buren is not physically connected to the main overhead network, even though located just 100 m. from it. All depot pull ins/outs necessitate trolleybuses to be towed for a length of one city block.
Trolleybus service is plentiful and fairly reliable. Prior to arrival of modern NAW BT 5-25 trolleybuses, reliability suffered from frequent en-route breakdowns of old rolling stock, however, this was always quickly rectified through short headways. The hours of operation are skewed toward profit optimization, with somewhat late start in the morning, and no late evening service. There is no Sunday service. With the exception of a brief trial period in 2007, there was never trolleybus service on Sundays under private ownership. All stops are made "on request". Designated stops are poorly signed, with some locations simply commonly "known" as trolleybus stops by the general public. Stops on request outside of designated areas are possible anyway, including boarding and alighting while vehicle is still in motion.
Operating expenses are 1/6 subsidized through fare matching (as of 2014 – 50 pesos on every fare of 250 pesos). However, vehicle acquisitions are done at operating company's expense. A combined ticket for the metro, trolleybuses and funiculars was introduced in the early 2015. A long-standing plan to extend the trolleybus line for about 500 m. from the current Plaza Barón Terminal to the Barón Metro Station to provide a more convenient transfer between these two modes is planned for 2016.
Since a succession of publicly and privately owned trolleybuses operators always controlled both Valparaíso and Santiago operations, a summary of trolleybus developments includes data for both systems, with major events outlined as follows:
History of Valparaíso Trolleybus Network
Special thanks for historic data provided: Allen Morrison

Rolling Stock
[ 2015 / total ]
Pullman 43CX : 9 / 39 (1947,1948) ex-Santiago
Pullman-Standard TC-48 : 5 / 30 (1952)
FBW GTr51 articulated : 2 / 4 (1959-1964) ex-Zürich (1991)
Berna 4GTP articulated : 2 / 16 (1965,1966) ex-Genève (1992)
Berna 4TP-A : 1 / 1 (1966) ex-Schaffhausen (1992)
Saurer 4TP54 : 1 / 5 (1970,1971) ex-Saint Gallen (1992)
FBW 91GTL articulated : 0 / 1 (1974) ex-Zürich (1992)
FBW 91GTS articulated : 0 / 2 (1975) ex-Genève (1992)
Norinco Shenfeng SYD60C : 2 / 4 (1989,1991) ex-Santiago (1994)
NAW BT 5-25 : 10 / 10 (1989) ex. Luzern (2014)

The oldest trolleybuses in service are represented by two groups: US-manufactured Pullman 43CX trolleybuses initially delivered to Santiago in 1947-48 (the 800 series, originally 100 vehicles), and Pullman-Standard TC-48 trolleybuses delivered to Valparaíso in 1952 (the 700 series, originally 30 vehicles, these trolleybuses replaced the last trams, numbered in the 600s). The latter were also the last Pullman trolleybuses ever manufactured. All Pullman trolleybuses have electrical propulsion equipment by General Electric. All but one Pullman 43CX trolleybuses of the 800 series (with the exception of 814) were extensively rebuilt, many more than once, some effectively re-bodied with various patchwork designs. 18 vehicles were rebuilt with elements of design to match the Chinese counterparts. On the contrary, Pullman-Standard TC-48 trolleybuses of the 700 series didn't suffer major body alterations. Overall 37 old Pullman trolleybuses were rebuilt at different times.
Pullman trolleybuses were reinforced by a collection of 31 second hand Swiss trolleybuses from Genève, Zürich, St. Gallen and Schaffhausen from the 1960-70s delivered in the early 1990s – mostly for the opening of the second trolleybus system in Santiago, but some operated in Valparaíso only. In addition 8 Chinese Norinco Shenfeng SYD60C trolleybuses were delivered to Santiago in 1989-1991.
All historic fleet numbers, including those of European donor cities, are preserved to keep trolleybus fans happy. Pullman 43CX trolleybus 116 is the only surviving representative of a group of 18 trolleybuses of the 800 series extensively rebuilt for the opening of the second system in Santiago in 1991, and renumbered 101-118.
Following the closure of the second Santiago system, all trolleybuses were transferred to Valparaíso. However, only one rebuilt Pullman 43-CX trolleybus 116, two Norinco Shenfeng SYD60C trolleybuses 603 and 607, and two FBW GTr51 trolleybuses from Zürich 503 and 504 were ever operated in Valparaíso. Ex-St.Gallen / ex-Santiago Saurer 4TP54 trolleybus 142 with heavily altered interior is used as a dispatch at Plaza Barón.
By early 2010s most Pullman trolleybuses were failing, with breakdowns becoming routine occurrences. Some trolleybuses' electrical and mechanical equipment was ingeniously rebuilt with in-house technologies, but such shortcuts didn't prove reliable. 10 second hand but modern looking 1989-built NAW BT 5-25 trolleybuses from Luzerne were delivered in 2014 to rectify the situation. They started in service in 03.2015, which effectively ended the prevalence of old trolleybuses in the streets of Valparaíso, as the use of Pullman trolleybuses was reduced, while some Swiss articulated units and Chinese trolleybuses were retired.
In accordance with the regional transportation plan introduced in 2007, trolleybuses were assigned a green-and-cream livery, which is uniformly applied to the entire fleet, including all new arrivals. Advertising on sides of vehicles is prohibited.
Pullman 43CX trolleybus 801 is the oldest trolleybus in service in the world, built in 1947. Pullman 43CX trolleybus 814 is the oldest trolleybus in service in the original state in the world, built in 1948. Trolleybus 715 is the oldest Pullman-Standard TC-48 trolleybus in service in the original state, built in 1952. Trolleybus 715 is slated for active preservation, with 814 being a second choice. FBW GTr51 trolleybus 105 from Zürich is the oldest articulated trolleybus in service in the world, built in 1959. As of 11.2014 ex-Genève Berna 4GTP articulated trolleybus 617 was rehabbed, and was to be sent back to Genève for preservation.
Since both Santiago and Valparaíso trolleybus systems were always operated by the same entity, there were many instances of rolling stock transfers, some of which are no longer traceable. Thus, a chronicle of rolling stock developments includes data for both systems, with major events outlined as follows:
Photos on map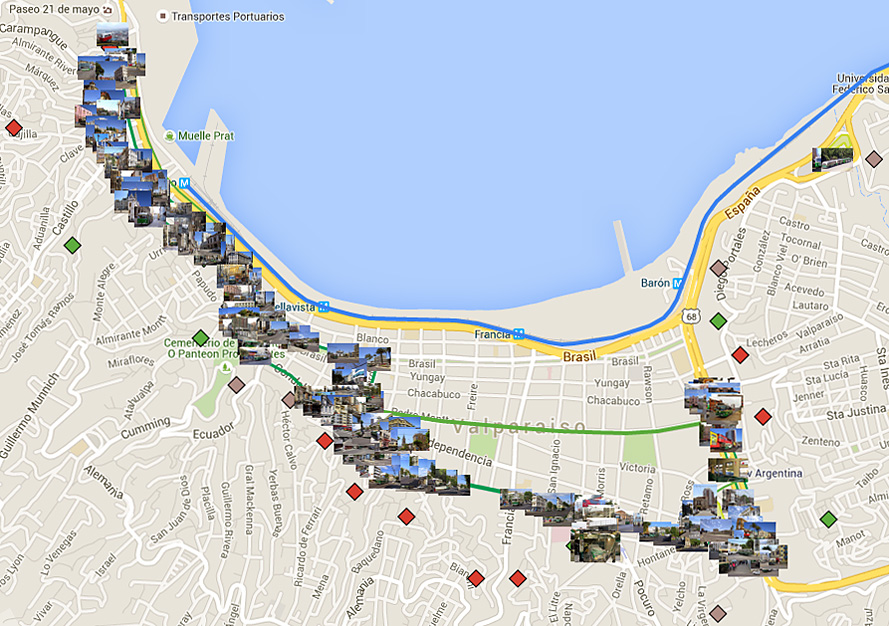 Slideshow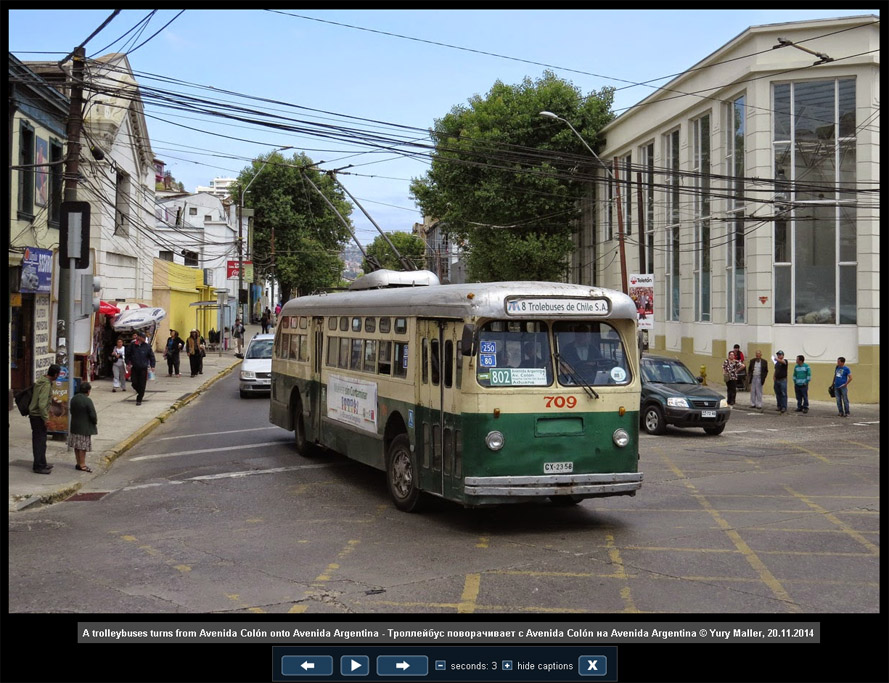 Links
Detailed pages on Valparaiso trolleybuses by Allen Morrison:
Part 1

Part 2

Part 3

Part 4

Blog by Samuel Fuentes:
www.trolleybusvalparaiso.blogspot.com
---
BACK