VALPARAÍSO
METRO



---
[as of 2015 ]
City
Founded: 1536
Population (city): 284 630 (2012)
Population (metro): 930 220 (2012)
Location: Valparaíso
The second largest metropolitan area in Chile. A major seaport. The city is built on steep hillsides overlooking the bay of the Pacific Ocean. The old town is protected as a UNESCO World Heritage Site. Valparaíso is known for a rough urban subculture, even though urban dangers are somewhat overstated. The city is vulnerable to earthquakes.

---
Network Stats
Operator: Metro Regional de Valparaíso S.A.
Valparaiso - Viña del Mar metro opened: 23.11.2005
Track length: 86 km. (one-way)
Track gauge: 1 676 mm. (Indian gauge)
Number of routes: 1
Number of stations: 20
Number of passenger vehicles: 27 units with single articulation
Number of vehicles required for service: 24
Passengers carried: 20 210 000 annually (2013)
Network map: 2015
Timetable: 2015
A single metro line uses the right-of-way of the former Santiago - Valparaíso railroad. The first segment of the railroad was opened in 1855, which makes it the oldest continually operating railroad in the southern hemisphere. The metro opened in 2005 after a conversion of a classic suburban railroad run by the state operator MerVal into a rapid transit-like operation. The project included double-tracking the entire 43 km.-long Valparaíso - Limache segment of the railroad, building a 5-km.-long tunnel with 4 underground stations within the adjoining city of Viña del Mar, and acquiring modern rolling stock. The depot is located at the outer terminal Limache.
During rush hours each second train short turns and operates as far as the Sargento Aldea Station only. While overall operation is reliable, the rush hour service could seem somewhat uneven, with poor schedule adherence. This is mostly due to equipment shortages, as longer 2-car trains operate shorter Sargento Aldea runs, while single-car trains operate full-length Limache runs. An attempt is made to balance out passenger loads through headway fluctuations, however, this is not reflected in the public timetable that lists evenly spaced intervals.
As of 2015 additional rolling stock were on order.

Rolling Stock
[ 2015 / total ]
Alstom X'Trapolis 100 : 27 / 27 (2005)

Photos on map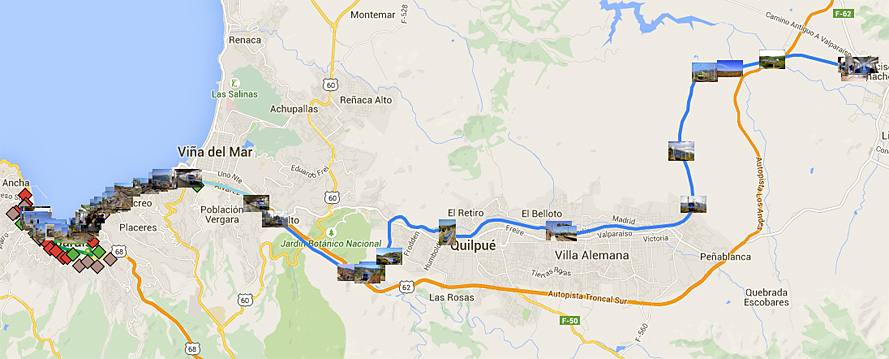 Slideshow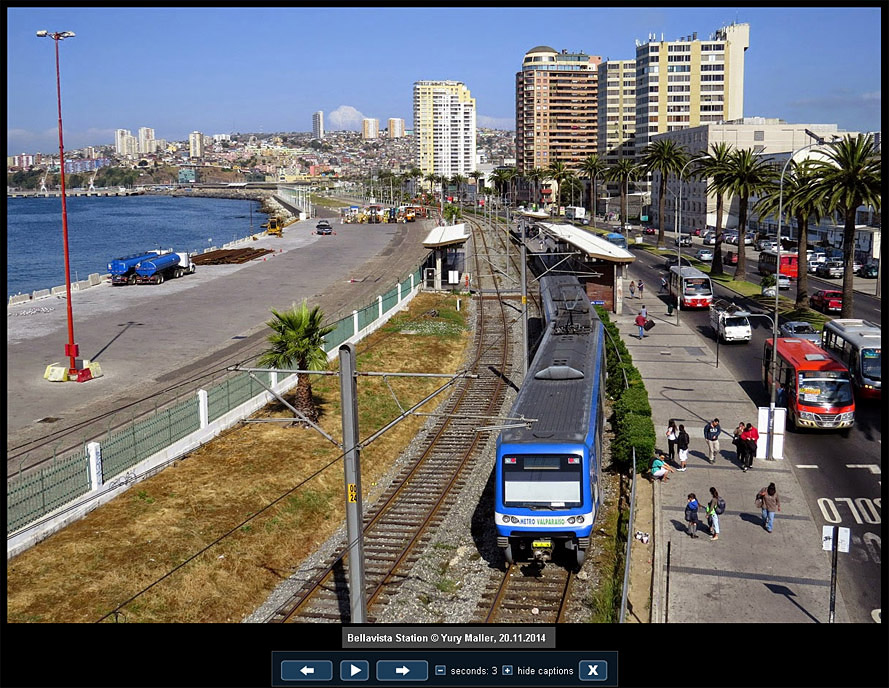 ---
BACK