HONG KONG
PEAK TRAM



---
[as of 2016 ]
City
British Colony from: 1842
Transfer to China from: 1997
Population: 7 234 800 (2014)
Location: Hong Kong
Network Stats
Operator: The Peak Tram
Line opened: 30.05.1888
Gauge: 1520 mm
Track length: 1,365 km.
Number of routes: 1
Number of stations: 1
Daily ridership: ~17 000
Vehicles: 2
Network map: 2016

The peak tramway is essentially a classic funicular railway. The system was completely renovated in 1989.
The tram is very popular, however, by far most passengers are tourists. There is always a line of people at the lower station, usually a few intervals-long. The loading system is highly discriminatory, as passengers with special passes (which include tickets to attractions operated by the same company as the peak tram), tour groups and locals have priority boarding privileges.
At mid-stations cars stop on request only. Requests are made by pressing the stop-request button at the station. Usually trams stop if the request was acknowledged prior trams' departure from terminals. The stop request could be declined if cars operate fully loaded, the corresponding red light indicator at the station will be lit in such case. However, even though very popular, trams usually depart moderately loaded, with a few freely-standing standees.
Rolling Stock
Formerly operated:
Type 1956 : 3

In 1989 two modern 2-section articulated cars replaced three 1956-built cars. One of the 1956 cars used to be kept as a spare. Two 1956 cars survive: one is kept at the depot, the other is on dpublic display at the peak, used as a tourist inforamtion office.
Photos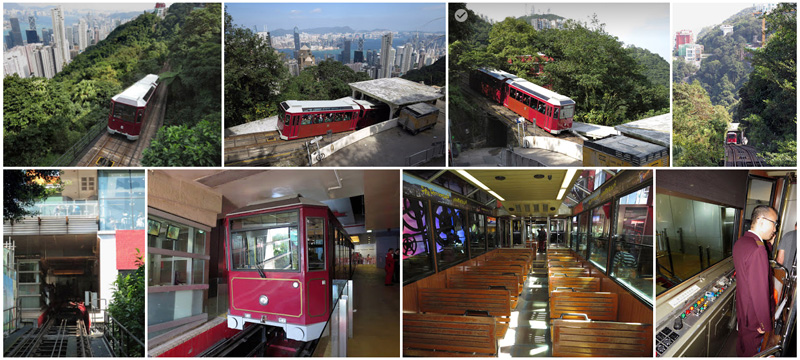 ---
BACK
Last updated: 20-May-2016
© 2002 Author: Yury Maller - Usage of material found herein for public display is possible with authors' permission only.