RIMINI - RICCIONE TROLLEYBUS NETWORK
---
[as of 2014 ]
City
Founded: Rimini 268 BC
Population: Rimini 146 606 (01.01.2013); Riccione 34 868 (31.05.2007)
Location: Rimini
Rimini - Riccione urban conglomerate is a popular seaside resort, essentially comprising a dreary standard few-city block deep urban sprawl along the 15 km. long sandy beach, with thousands of hotels.
Network Stats
Operator: START Romagna
Electric tramway operated: 1921-1938
Trolleybus system opened: 01.01.1939
Overhead length: 26,22 km. (one-way)
Number of routes: 1
Number of passenger vehicles: 6

Maps:

Historic


2013
Timetable: Winter 2013-14
An interurban trolleybus Line 11 between municipalities of Rimini and Riccione goes through endless blocks of urban development along the coastline. A trolleybus terminal in Rimini's main square Piazza Tre Martiri operated until 01.11.1998, when the square was pedestrianized. The terminal was moved to the tight Piazza San Girolamo nearby, where it remained until 14.09.2009, the last day of service of the two-axle Volvo Mauri B59/59 trolleybuses. There was a break in trolleybus service until 06.2010, during which an underpass under the railroad in Rimini, the critical point on the route, was reconstructed to accommodate the newly delivered Van Hool AG 300T trolleybuses. The new 18 m.-long articulated vehicles with rigid rear axle were unable to fit into the tight Piazza San Girolamo loop, and a turnaround via streets with no overhead was established to be operated in a diesel mode. Initially passengers were carried via a turnaround, with a terminal at Piazza Gramsci. From 01.06.2011 passengers were no longer carried in the diesel-mode due to low ridership via the given segment, with the last stop for Rimini-bound trips established at the Main Railroad Station, and the first stop for Riccione-bound trips at Via Dante, near the former Piazza San Girolamo loop.
Toward the end of service of Volvo Mauri B59/59 trolleybuses in the 2000s, with some of them already deemed inoperable, up to a half of trips on the Line 11 were operated with diesel buses. With only 6 Van Hool AG 300T articulated trolleybuses acquired to replace 17 Volvo Mauri vehicles, partial use of diesel buses continues.
Light rail interurban line Rimini - San Marino of 950 mm. gauge operated: 12.06.1932-26.06.1944
Rolling Stock
A total of 6 vehicles:
Van Hool AG 300T

6 vehicles (36501-36506) (2010,2012)
Formerly used vehicles:
Fiat 656F

8 vehicles (1001-1004,1007-1010) (operated 1939-1971)
Fiat 635F

2 vehicles (1005,1006) (operated 1938-1968)
Fiat 668

3 vehicles (2226-2228) ex. Genoa (operated 1953-1977)
Fiat 2401

4 vehicles (1011-1015) (operated 1954-1978)
Alfa Romeo 910

10 vehicles (1002,1003,1005-1010,1042-1043) ex. Brescia (operated 1961-1977)
Fiat 2411

1 vehicle (1041) (operated 1964-1978)
Volvo Mauri B59/59

17 vehicles (1001-1017) (operated 1976-09.2009)
Photos on map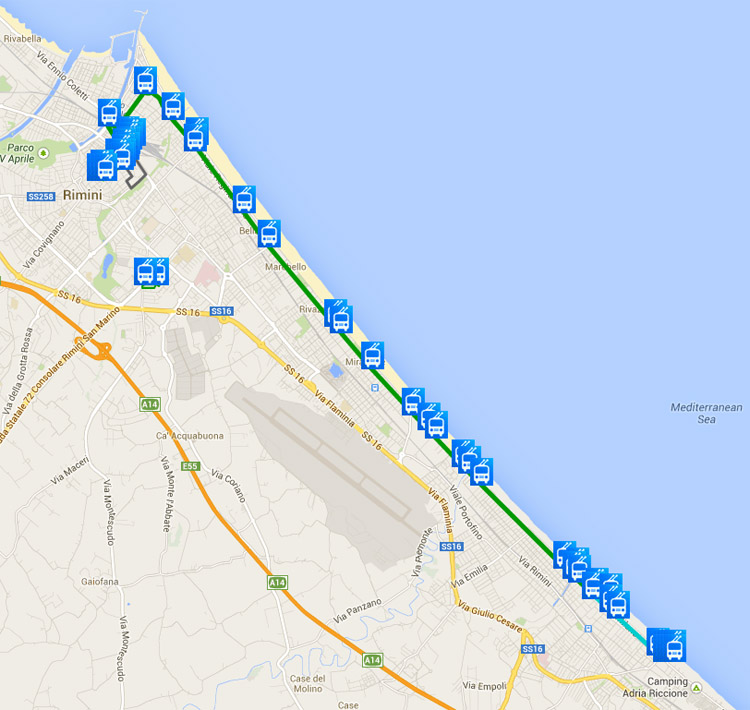 Photo galleries:


Trolleybus Rimini - Riccione
---
BACK
Last updated: 04-Jan-2014
© 2002 Author: Yury Maller - Usage of material found herein for public display is possible with authors' permission only.