IN MEMORY OF
SHYMKENT TROLLEYBUSES
( 11.01.1969 - 10.2005 )



---
[as of 2014 ]
City
Founded: XII century
Population: 683 273 (2014)
Location: Shymkent
Network Stats
Operator: TOO "Trolleybusniy Park"
System opened: 11.01.1969
System closed: 10.2005
Overhead length: 86,2 km. (one-way)
Number of routes operated: up to 10
Number of passenger vehicles at system's closure: 15
Maximum number of passenger vehicles ever: 70+
Network maps (data incomplete): 1969-1994

1995-2005
A formerly vibrant trolleybus network with up to 10 routes and more than 70 vehicles in operation suffered after the collapse of the Soviet Union. The construction of the second depot, started under the USSR, was 95% complete, but was never finished. The operation was temporarily suspended in 1998 and the ownership was transferred from municipal to private hands. The decline of the system continued due to competition from private diesel bus and route taxies carriers and unfavorable attitudes of the city government. There was an attempt to re-municipalize the company in 2003, possibly in order to re-sell it, but this was met with successful legal resistance from the owners. The operation was stopped yet again in early October, 2005 due to unpaid debts, and never recovered. All overhead was dismantled, trolleybuses were scrapped, and the depot was converted into a truck shop. As of 2014 there were practically no signs of the former system to be found, except for some surviving overhead support poles at the outskirts of the city.

Rolling Stock
ZiU-5, ZiU-682V, ZiU-682G

Photo gallery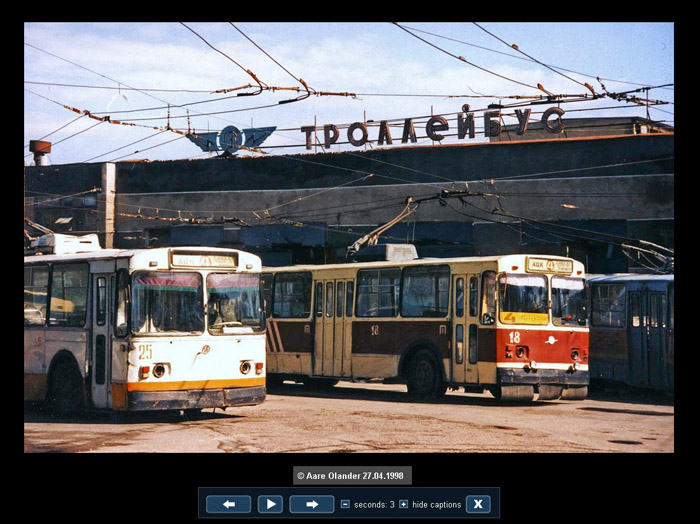 ---
BACK
Last updated: 17-Sep-2014
© 2002 Author: Yury Maller - Usage of material found herein for public display is possible with authors' permission only.
Special thanks: Aare Olabder (photos), Maksim Golbraykht (maps)