UST-KAMENOGORSK
TRAM NETWORK



---
[as of 2014 ]
City
Founded: 1720
Population: 325 803 (2014)
All-time maximum population: 341 800 (1993)
Location: Ust-Kamenogorsk
Network Stats
Operator: TOO "Takhami Put"
System opened: 06.11.1959
Track length: 28,6 km. (one-way)
Number of routes: 3
Number of passenger vehicles: 37 (28 operable)
Number of vehicles required for service: 20
Network map: 2008

2013
Timetable: 2014
"Trams are operated by a private company TOO "Takhami Put". The owners claim that operation is profitable, however, to date the company never acquired any new equipment.
The tramway system was under a real threat of closure while the company went through many artificially imposed legal hurdles in the early 2010s, because a lucrative piece of a real estate that the tramway depot occupies was eyed by shopping mall developers. These troubles were reportedly over by 2014.
Trams operate relatively often. Headways are not ideal, but noticeably optimized to maximize profits. The operation, however, is exceptionally reliable, schedule adherence is exemplary. Trams remain very popular amid all social groups. While Lines 1 and 4 serve the northern industrial park and cater to peak hour ridership, the long cross town Line 3 is popular throughout the day with trams often operating loaded to capacity.
The Lines 5 and 6 are not operated. The Line 2 was operated until 2013 as a short turn peak hour supplementary service to the Line 3.
The infrastructure is in fair condition. A lengthy outer segment of the western line to Zaschita was recently rebuilt. Minor rebuilding work is done regularly as needed on other segments. The Depot modernization is also planned.
Daily systemwide equipment usage is optimized and reduced to 20 cars, with some excess trams scrapped. All KTM-5M3 trams are in relatively fair condition, even though all were delivered in 1977-1986. The only exception is a single St. Petersburg-built LM-99K tram, delivered in 2001. It is not used in regular service since 2012, officially due to incompatibility of pneumatic equipment with local winter weather conditions (similar equipment, however, is used neighboring towns in Russia just across the border). This car can, however, be revived on moments notice, but is not needed due to general rolling stock excess.
As of 06.2014 TOO "Takhami Put" was in the process of acquiring a low-percentage loan to buy used Tatra KT4DM trams from Berlin."

Rolling Stock
A total of 37 (28 operable) vehicles:
KTM-5M3 : 36 (1977-1986)
LM-99K : 1 (2001)

Formerly used vehicles:
F (ex-Moscow) ;

KTM+KTP-1 ;

KTM+KTP-2

Photo gallery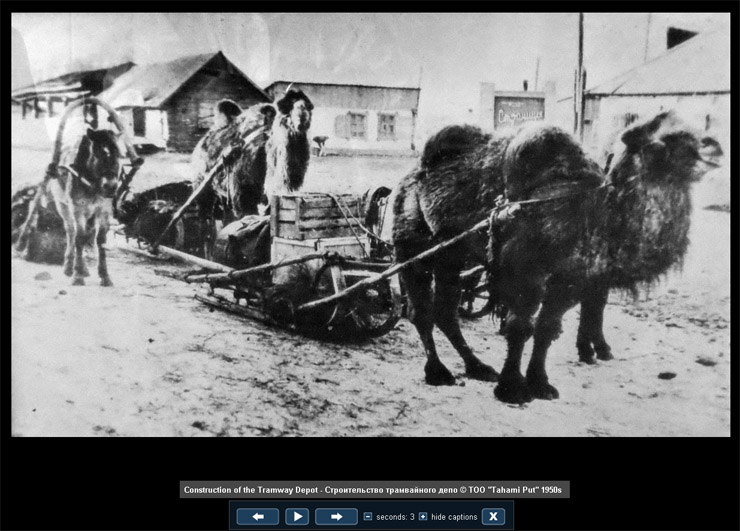 ---
BACK
Last updated: 10-Nov-2014
© 2002 Author: Yury Maller - Usage of material found herein for public display is possible with authors' permission only.
Special thanks: AK (Aleksandr), Maksim Golbraykht - maps; Aare Olander, Maksim Golbraykht - photos.