LUXEMBOURG
TRAM NETWORK



---
[as of 2019 ]
City
Founded: 987
Population - city: 119 214 (2019)
Population - metro: 182 607 (2018)
Location: Luxembourg City
The capital city of Luxembourg, considered the richest country in the EU based on GDP, and the 2nd richest in the world (after Qatar).
Network Stats
Operator: Luxtram
Horse tram opened (1435 mm): 21.02.1875
Electric tram opened (1000 mm): 08.08.1908
Electric tram closed: 05.09.1964
2nd generation tram opened: 10.12.2017
Track length, entire line (one-way): 32,8 km.
Gauge: 1435 mm
Number of stations, entire line: 24
Number of passenger vehicles, entire project: 33
Network map: 2019

The Luxtram line opened in stages. At the time of writing two stages opened:
10.12.2017 - Phase I: Luxexpo - Rout Bréck-Pafendall
27.07.2018 - Phase II: Rout Bréck-Pafendall - Stäreplaz / Étoile
Phase III Stäreplaz / Étoile - Gare Centrale was to open in 2020. Phases IV Luxexpo - Airport and V Gare Centrale - Cloche-d'Or were to open in 2021-2023.
The new modern tramway system is designed to connect the old Luxembourg City center with the modern satellite urban development Kirchberg in the north, as well as the airport beyond it. In the south the line is to reach into the neighborhood currently under development. Thus, the new tramway is not designed to serve the traditional neighborhoods of Luxembourg City, but is rather meant as a tool for regional urban development.
Most of the line is built on a reservation. In the central area of the city trams operate via dedicated lanes. Also in the central area overhead is not employed, and trams operate using an auxiliary power. The operation is double-ended with many crossovers along the line. The Depot is located north of the Luxexpo Station, and was overbuilt upon its opening in 2017 in anticipation of future development. The new landscaping design was used on the outer segments of the line featuring natural untrimmed vegetation growth along tramway tracks.
The Pfaffenthal - Kirchberg high-capacity funicular connects the new tramway to the Pfaffenthal (Pafendall) railway station and the country-wide S-Bahn system. The funicular was opened on the same day with the tramway 10.12.2017 as a part of the same project. It boasts two independent shafts and 4 cars operating simultaneously.
After the opening of the line the fare was notably low, with continuous multiple-hour or all-day use allowed at discounted prices. All public transportation in Luxembourg is set to become free by 2020.
Rolling Stock
33 CAF Urbos 3 (2017+)

8 CAF Urbos 3 cars of ultra-modern design were delivered for the opening in 2017. 3 additional cars were delivered in 2019. By the time the entire line is completed 33 trams are to be delivered in total.
Photos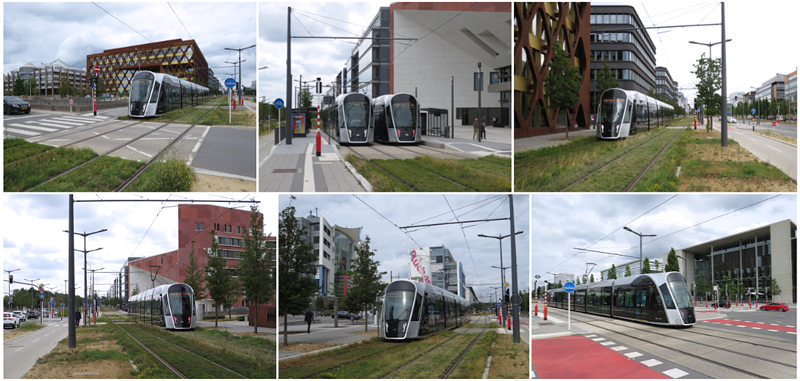 ---
BACK
Last updated: 01-Dec-2019
© 2002-2019 Author: Yury Maller - Usage of material found herein for public display is possible with authors' permission only.