BALTI TROLLEYBUS NETWORK
---
[as of 2013 ]
City
Founded: 1421
Population: 144 800 (2013)
Location: Balti

Network Stats
Operator: Întreprinderea Municipală "Direcția de troleibuze Bălți"
System opened: 12.06.1972
Overhead length: 35,8 km. (one-way)
Number of routes: 3
Annual ridership: 17 119 900 (2012)
Number of passenger vehicles: 35
Maximum number of passenger vehicles ever in possession: 90
Number of vehicles required for service: ~29

Network map (by Pavel Nefedenkov): 2010
Intervals and vehicle usage: 2011
A trolleybus system in a relatively small city, opened in 1972 through patronage of a high-ranking apparatchik, M.A.Lesechko, a deputy of the Supreme Soviets (a.k.a. a Representative) from Bălţi, who was also a Deputy Prime Minister of the former USSR. A sturdy trolleybus operation, which survived through a period of dramatic shortages of funds and equipment in the 1990-2000s, including a total suspension of the trolleybus operation from April to August, 2001. The rolling stock maintenance is iffy and breakdowns are common. Most older ZiU trolleybuses appear to be assembled of a mix of spare parts from multiple donor vehicles. Two formerly articulated ZiU-683 vehicles 150 and 151 were shortened to standard-size 2 axle vehicles. Trolleybuses are faced with considerable competition from private diesel bus carriers. Despite all of the above, trolleybuses still assume a vital role in the city's transportation scheme. Trolleybus service is plentiful, reliable and predictable. A tender for 23 new trolleybuses was held in 2013 with funds available through the European Bank of Reconstruction and Development. This event is to mark a new era for the Bălţi trolleybuses.

Rolling Stock
A total of 35 (31 operable) vehicles:
ZiU-682V

17 (1980-1993)
ZiU-682G

6 (1991,1992)
ZiU-683B

(formerly articulated, shortened)

1 (1992)
ZiU-683V

(formerly articulated, shortened)

1 (1993)
BKM-20101

3 (2004,2005)
VMZ-5298

7 (2008)
Škoda 14Tr13/6M

1

Formerly used vehicles:
ZiU-5

(1972+)

Photos on map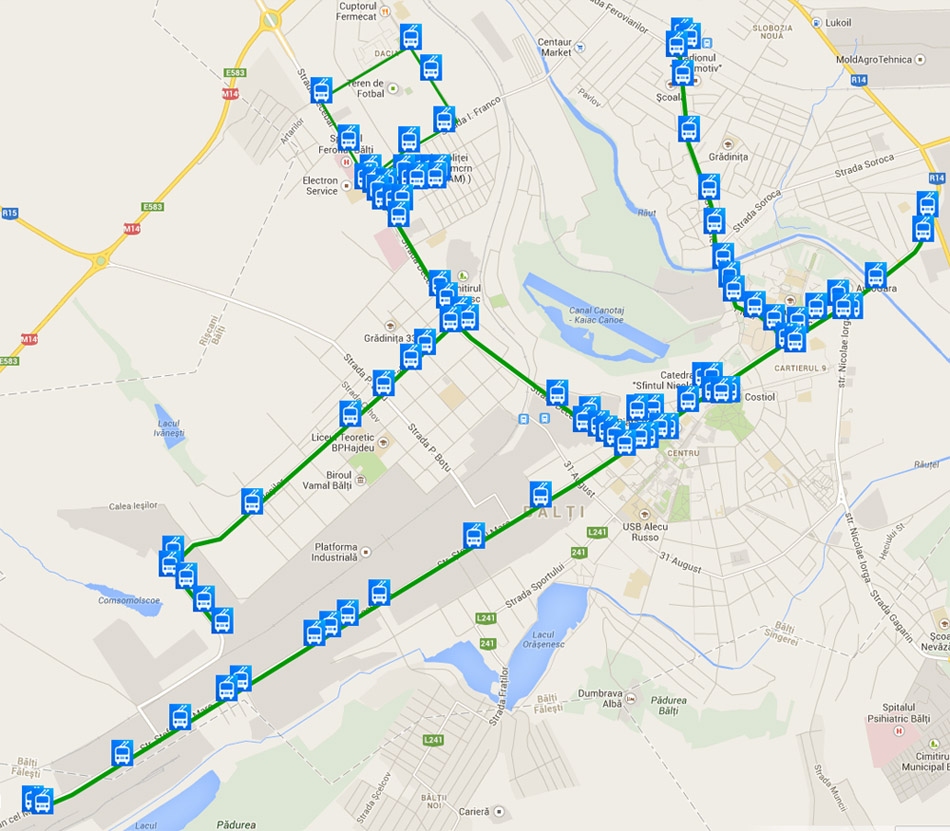 Photoreview
Openning day on 12.06.1972, photos from the Î.M. "Direcția de troleibuze Bălți" archive:



The Autogara area in the 1970s, photos by Georgiy Raylyan, from the SP

eSP.md

newspaper archive:



Autogara - Aerogara
Line 1 operates the entire branch to Aerogara (Airport) 7 days a week. Line 3 operates to Autogara (Bus Station) on Mondays, Wednesdays and Fridays; operates all the way to Aerogara on Tuesdays, Thursdays, Saturdays and Sundays to accomodate a nearby flea market on it's openning days.







Dacia
The line to an apartment block development in the north, a leading passenger generator in the city.




















Molodova
The line to an industrial park in a state of decline, operated with the least service.













---
BACK
Balti Complete Photo Archive
Last updated: 15-Sep-2013
© 2002 - Usage of material found herein for public display is possible with authors' permission only.