BELGOROD
TROLLEYBUS NETWORK



---
[as of 2014 ]
City
Founded: 1596
Population: 379 135 (2014)
Location: Belgorod
Network Stats
Operator: MUP "Gorodskoy Passazhirskiy Transport" (MUP GPT)
System opened: 03.12.1967
Overhead length: 125,0 km. (one-way)
Number of routes: 10
A formerly vibrant and busy trolleybus system that went through somewhat contradictory developments: a gradual reduction in service in recent years, which culminated with dramatic cuts in 2012-2013 and extensive scrapping of old rolling stock; at the same time a considerable acquisition of new rolling stock, however insufficient to guarantee adequate service on all routes. Regardless of relative viability of trolleybus services, the city is critically overwhelmed with private diesel midibuses (route-taxis).
The system is famous for the 12 km. long suburban line to Posyolok Mayskiy, which includes the 6 km. long segment beyond the city limits.
Only Lines 1, 4, 5, 8 provide adequate service. The Lines 2 and 10 operate during weekday rush hours only, with a single trolleybus and 6 trips each. Service on the Lines 6 and 16, only recently abounded, is reduced to a single trolleybus operating 8-9 trips daily. As of 07.2013 the Line 7 is served with diesel buses. The Lines 11 and 11a were suspended in the early 2010s, with the line via Gubkina Ul. remaining unused. The Line 14 was suspended in 08.2012, with the line via Belgorodskogo Polka Ul. remaining unused. The long suburban Line 15 was suspended between 01.07.2012 – 10.2013 and operated with diesel midibuses. Prior to the closure it was operated with a single trolleybus making 5 trips daily, however, after the reopening the service was boosted to 2 trolleybuses and 11 trips daily. The branch to ZMK (formerly the Lines 9, 13) is unused. The small branch to Tsemzavod (formerly the Line 3) are dismantled.
The city acquired 30 "reduced-floor" (a single step up) TrolZa-5275.07 "Optima" trolleybuses in 2011, and 20 Belarus-made low-floor BKM-420030 "Vitovt" trolleybuses in 2013. As always, Belarus vehicles, however of a bold design, came together with insurmountable technical problems.
Trolleybus fan site: Belgorodskiy Trolleybus
Rolling Stock
A total of 82 vehicles:
ZiU-682G : 32 vehicles (2002,2005)
TrolZa-5275.07 "Optima" reduced floor : 30 vehicles (2011)
BKM-420030 "Vitovt" low-floor : 20 vehicles (2013)

Formerly used vehicles:
ZiU-5 : 81 (operated 1967-1983)
ZiU-682B
ZiU-682V
ZiU-683B articulated : 2 (operated 1990,1991-2012)
ZiU-6205 articulated : 3 (operated 1993,1997-2012)
Škoda 14TrM (VMZ) : 1 (operated 1996-2012)

Trolleybus photos on map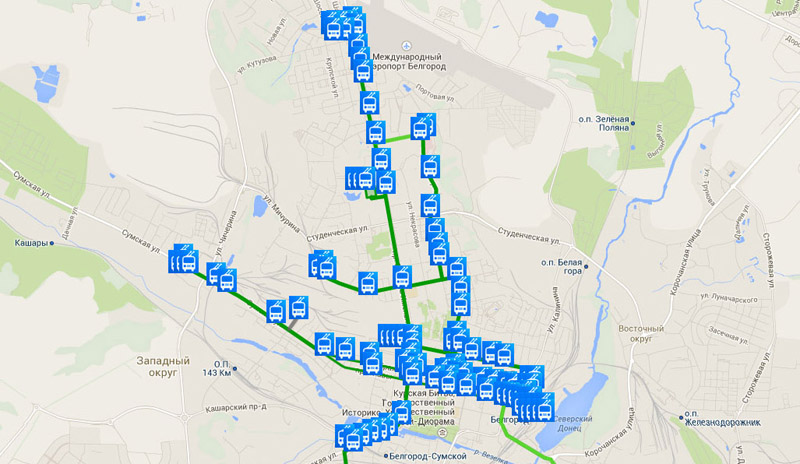 Trolleybus photo galleries:
---
BACK
Last updated: 18-Apr-2014
© 2002 Author: Yury Maller - Usage of material found herein for public display is possible with authors' permission only.
Special thanks: Dmitriy Eysmont (map), Grigoriy Sanzharovskiy, Ivan A., Natalya Demina, Aleksey Kirillov, Andrey Kireev
Belgorod Complete Photo Archive