KHIMKI
TROLLEYBUS NETWORK



---
[as of 2015 ]
City
Founded: 1850
City as of: 1939
Population: 232 066 (2015)
Location: Khimki
A satellite town located to the north of Moscow, just outside of the Russian capital's Belt Highway. Mainly constitutes an apartment block development. Even though administratively independent, the town is practically an extension of Moscow proper.
Network Stats
Operator: MUP Khimkielektrotrans
System opened: 24.04.1997
Overhead length: 17,6 km. (one-way)
Number of routes: 3
Number of passenger vehicles: 29
Network map: 2010
Timetable: 2015
A small trolleybus system primarily designed as a feeder to Moscow's metro. The Khimki network penetrates the boundaries of Moscow proper, with suburban trolleybuses running to the Planernaya Metro Station. There is, however, no physical connection to Moscow's trolleybus system. The Line 1 provides local service within Khimki, while the Lines 202 and 203 are feeder services to the metro. The metro feeder service might seem inadequate provided passenger flow potentials, especially considering plentiful competition from diesel bus services. The trolleybus service is mostly reliable, with satisfactory timetable adherence.

History
24.04.1997 - Ulitsa Druzhby - Pobedy Ulitsa, Line 1 opens
22.09.2001 - The line to Moscow's metro Planernaya opens, Line 2 Druzhby Ulitsa - Planernaya Metro opens
01.01.2005 - Line 2 renumbered 22
Mid-2005 - Line 22 renumbered 202
07.09.2006 - Pobedy Ulitsa - Stadion Rodina, Line 1 extended
03.2009 - The Line to Planernaya Metro shortened 300 m.
02.09.2009 - Line 203 Stadion Rodina - Planernaya Metro opens

Rolling Stock
[ 2015 / total ]
TrolZa-5265.00 Megapolis : 2 / 2 (2013) Low floor
ZiU-682 KR Ivanovo : 1 / 1 (2012)
ZiU-682G-016.05 : 12 / 12 (2009-2011)
ZiU-682GN, ZiU-682G-012, -016, -018 : 14 / 45 (1998-2009)
AKSM-101PS : 0 / 1 (1998)
AKSM-101A : 0 / 5 (1996,1997)
ZiU-682V : 0 / 2 (1987)
Photo Gallery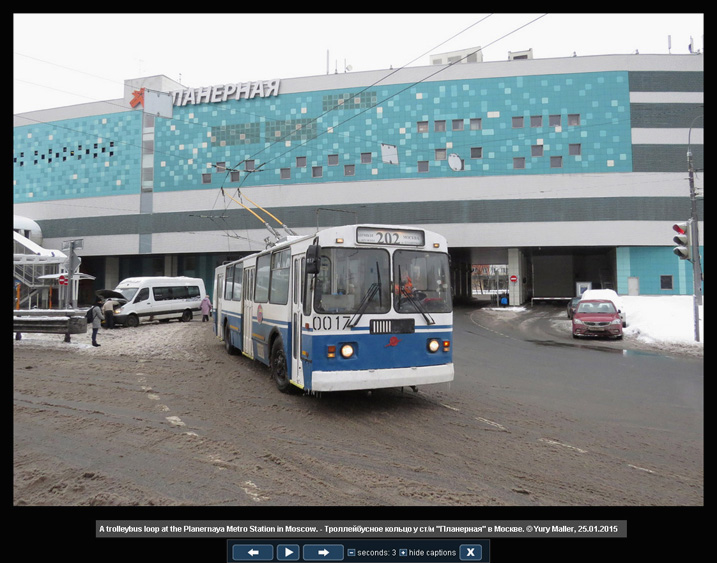 ---
BACK
Last updated: 26-Jul-2015
© 2002 Author: Yury Maller - Usage of material found herein for public display is possible with authors' permission only.
Special thanks:

AK (Aleksandr) - Map