KOVROV
TROLLEYBUS NETWORK



---
[as of 2015 ]
City
Founded: 1157
City as of: 1778
Population: 140 117 (2015)
Location: Kovrov
A small sub-regional center in the Vladimirskaya Region.
Network Stats
Operator: MUP "Upravlenie Trolleybusnogo Transporta"
System opened: 10.03.1975
Overhead length: 55,0 km. (one-way)
Number of routes: 7
Number of passenger vehicles: 60
Number of vehicles required for service: 46
History of trolleybus development: 1975 - 1997

Network map: 2009

2012

2014

2015
Timetable: 2015
A trolleybus service was always considered an aspect of prestige for any town in the Soviet Union. According to the established system of quotas for public transportation projects in the USSR, the city of Kovrov, a sub-regional center with a population of about 125 000 - didn't qualify for trolleybus service. The trolleybus system was opened through personal patronage of Dmitriy Fyodorovich Ustinov, the Minister of the Defense Industry of the Soviet Union, and a member of the Politbyuro. Due to a number of military factories located in Kovrov, Mr. Ustinov was technically an elected deputy representative (e.g. a legislator) at the High Committee of the Soviets for the region that included the town.
Trolleybuses became the main prevailing mode of transportation in town. The system covers practically all transit corridors. A new line via the only remaining trolleybus-less artery, Stroiteley Ulitsa, was planned in the 2000s, but this project was never realized.
Trolleybus service route designation numbers are historically tied to diesel bus route numbers to reduce confusion, and thus might not seem consistent. The Line 2, and to some extent the Line 4 - are core services with metro-like headways. A number of routes exist on paper only, and are operated intermittently depending on a well-being of the system at any given time. The Line 1 was not serviced regularly since 1990, however, occasional runs are operated, mostly as depot trips. The Line 5, a short turn version of the Line 4, is notorious for an on-and-off operation. It was yet again suspended as of the end of 2015. The Line 6, historically a sacrificial lam with minimal service, is reduced to a few PM runs in favor of a newly introduced longer version - the Line 8. The peripheral Line 9 that serves the recently developed outer neighborhoods, is the new favorite, with service gradually increasing. The Line 13 was introduced 13.02.2015 in a form of a single one-way PM peak hour weekday-only trip. The night services C1 and C2 (with the "C" standing in for "Special") are operated with a single trip each via rather convoluted routes that attempt to cover the entire system.

Rolling Stock
ZiU-682G : 20 (1998-2002)
VZTM-5284 : 13 (2002-2007)
ZiU-682 KR Ivanovo : 12 (2010-2014)
VMZ-5298 (VMZ-375) : 6 (2010)
BTZ-52768T : 2 (2013)
BTZ-52761R : 2
BTZ-5276-04 : 1 (2006)
LiAZ-5280 (VZTM) : 1
TrolZa-5264.01 Stolitsa : 1 (2002)
TrolZa-5265.00 Megapolis : 1 (2009) Low floor
TrolZa-5275.07 Optima : 1 (2012) Low Floor
Formerly operated:
BKM 42003A Vitovt : 1 Low floor prototype tested 2009-2013
TrolZa-5275.00 : 1
LiAZ-5280 : 1
VMZ-100 : 1
ZiU-682V
ZiU-682B
Following the collapse of the Soviet Union, most new rolling stock acquisitions were done by way of ordering a bare body from the manufacturer, and outfitting it with the rest of a trolleybus within the depot itself, thus rendering it a small trolleybus factory in its own right. In the early 2000s such vehicles were called "Kovrovchanin" ("the Kovrovian"). 12 ZiU-682 KR Ivanovo vehicles are essentially rebuilts of the old ZiU-682 trolleybuses performed in the city of Ivanovo, with the letters "KR" standing for the "rehab". There are 3 different versions of such rebuilts operating in Kovrov. All Volgograd-built VZTM-5284 trolleybuses lost their distinctive "froggy" fronts upon a rehab in Kovrov.
The small system often acted as testing grounds for trolleybus prototypes, and boasts a number of trolleybus models represented by 1 or 2 vehicles only. A Belarus-made BKM 42003A Vitovt trolleybus, a low floor prototype, was tested in Kovrov in 2009-2013. One of the two TrolZa-5275.00 prototype trolleybuses in the world ended up in Kovrov in 2007. Both saw only intermittent operation, and were mostly parked at the depot for prolonged servicing. TrolZa-5275.07 Optima low-floor trolleybus with an auxiliary power option was tested in Kovrov since 2012.

Photos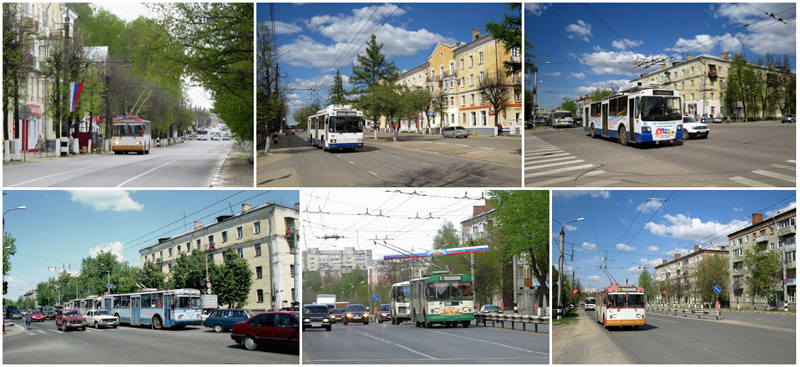 ---
BACK
Last updated: 12-Aug-2016
© 2002 Author: Yury Maller - Usage of material found herein for public display is possible with authors' permission only.
Special thanks:

Dmitriy Eysmond - maps; Maksim Tanichev, Arkadiy Novozhilov - photos