MURMANSK TROLLEYBUS NETWORK



---
[as of 2013 ]
City
Founded: 04.10.1916
Population: 302 468 (2013)
All-time maximum population: 468 039 (1989)
Location: Murmansk
An important seaport city north of the polar circle. A polar night continues for 40 days in the winter; the polar day for 60 days in the summer.
Network Stats
Operator: OAO "Electrotransport"
System opened: 11.02.1962
Overhead length: 74,8 km. (one-way)
Number of routes: 5
Number of passenger vehicles: 126
Number of vehicles required for service: 103

Network map: 1962-1978

1979

1984-1988

1990s

2000

2010

2012
Intervals and vehicle usage: Winter 2014
Real time satellite trolleybus tracking: www.troll51.ru
The northernmost urban electric transit network in the world, and the only one operated north of the polar circle. Arguably the best run trolleybus system in Russia, with rush hour headways on main routes as low as 3-4 minutes, and relatively new rolling stock. Satellite tracking of vehicles is available for public via the internet. The Line 2 is operated during AM rush hours only, on the winter schedule only. Two feeder midibus routes 3T and 4T are operated by the trolleybus company, which connect areas with no overhead to trolleybus service on a single ticket, even though connections are not timed. The unprofitable bus route 33 is operated by the trolleybus company for political reasons, trolleybus passes are accepted.

Rolling Stock
A total of 126 vehicles:
ZiU-682G-012; ZiU-682G-016; ZiU-682G-018 : 7 vehicles (2002,2003)
ZiU-682G-016.02; ZiU-682G-016.04; ZiU-682G-016.07 : 5 vehicles (2008,2010)
ZiU-682 KR Ivanovo : 64 vehicles (2004-2013)
TrolZa-5265.00 "Megapolis" : 5 low floor vehicles (2007)
AKSM-101PS : 7 vehicles (2000)
VMZ-170 : 4 vehicles (2002,2003)
VMZ-5298.00 (VMZ-375) : 3 vehicles (2003,2009)
VMZ-52981 : 7 vehicles (2009-2013)
VMZ-5298.01 (VMZ-463) : 1 low floor vehicle (2006)
VMZ-5298.01 "Avangard" : 1 low floor vehicle (2012)
VZTM-5284; VZTM-5284.02 : 16 vehicles (2003-2007)
VZTM-5290.02 : 6 vehicles (2008)

Formerly used vehicles:
ZiU-5; ZiU-5D
ZiU-682B; ZiU-682V
VMZ-100 : 9 vehicles (operated 1995-2011)
AKSM-101A : 1 vehicle (1997)
Photos on map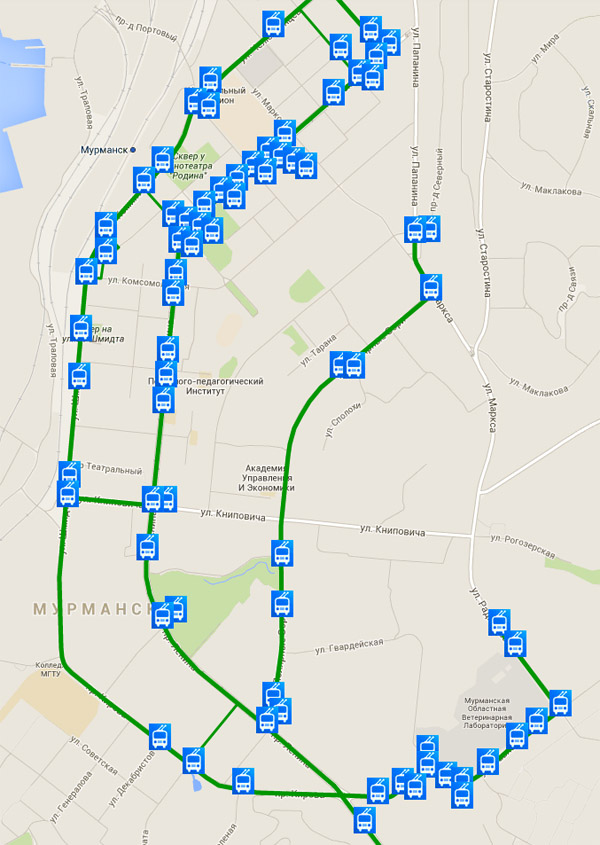 Photo gallery:


Murmansk Trolleybus Network
---
BACK
Last updated: 15-Jan-2014
© 2002 Author: Yury Maller - Usage of material found herein for public display is possible with authors' permission only.
Special thanks: IKS (map 2010); Sergey_Murmansk (archive photos).