ORYOL
TRAM NETWORK



---
[as of 2016 ]
City
Founded: 21.09.1566
Population: 319 550 (2015)
Location: Oryol
Network Stats
Operator: MUP "Tramvayno-Trolleybusnoe Predpriyatie" (MUP TTP)
1000 mm system opened: 03.11.1898
System re-gauged to 1524 mm: from 1938
Track length: 38,9 km. (one-way)
Number of routes: 3
All-time maximum number of routes: 6 (1968)
Number of passenger vehicles: 87
Network maps:
1898+

1901

1934

1941

1945

1955

1962


1968

1969

1973

1977

1983

2011

2014

The system opened 15.11.1898 by the Belgian company 'Compagnie mutuelle de tramways' as a meter-gauge tramway. The service was interrupted after the Revolution in 05.1919-05.1922. Re-gauging of the system started in 1938 and continued into the war years, with the last meter-gauge line operated on 03.10.1941. The tramway service was interrupted yet again during the World War II in 10.1941-11.1943. There was a brief period of operation using diesel motrice coupled with the tram in occupied Oryol during the WWII in 1943. After the war the system was reopened as the standard gauge-only operation, with formerly meter-gauge segments gradually rebuilt into the standard gauge.
In the late 1960s tram lines were relocated away from city's major streets onto background secondary streets, giving way to the new trolleybus lines. On 23.05.1973 the central line over the Lenin Bridge to Gorkogo Ulitsa was closed, again, in favor of trolleybuses. The leftover tram network, however, remained practically unchanged ever since. Despite trams being rerouted via somewhat zigzagging patterns, new passenger markets were won. The trams remain extremely popular. The operation is well run, and the headways are low. Unlike with trolleybuses, the future of the tram system seems to be stable.
Rolling Stock
Tatra T3SU : 72
Tatra T6B5SU : 13
SPEKTR 71-403 : 1
SPEKTR 71-405 : 1

Formerly operated:
KTM-5
KTM-2, KTP-2
KTM-1, KTP-1
Kh
F
KP trailer
Belgian Type (1000 mm) Motor+Trailer : 17+10

The Oryol tramway system is notable for operating KTM-5 trams in 1971-1983, but then moving away from these in favor of the Czechoslovakian-built Tatra trams – a move rather unprecedented in the planned Soviet economy. This was done due to technical inferiority of the KTM-5 trams, amplified by the serious accident in 1974 due to tram's breaking system failure. Except for a recent addition of the two Ekaterinburg-built Spektr trams, the fleet remains uniformly all-Tatras, which undoubtfully contributes to popularity and relative stability of the system.
Photos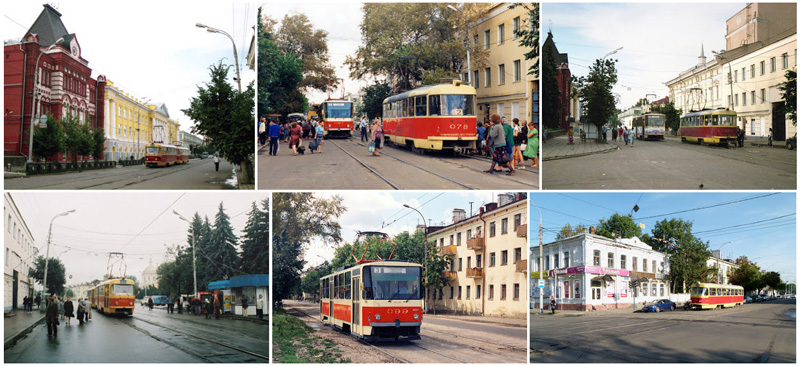 Archive Photos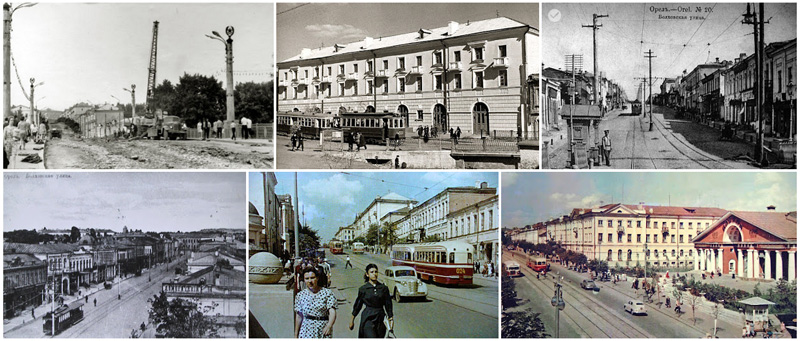 Links
Orlovskiy Transport (unofficial, Russian only):
orel-transport.ru

---
BACK
Last updated: 01-Aug-2016
© 2002 Author: Yury Maller - Usage of material found herein for public display is possible with authors' permission only.
Special thanks:

Pavel Zyuzin, Andrey Kireev - maps;
Sergey Sergeev, Pavel Zyuzin, Andrey Kireev, Aare Olander, Vladislav Prudnikov, Dmitriy Aksenov, Natalya Demina, Grigory Sanzharovskiy, Dimar Sagdeev - photos.