ORYOL
TROLLEYBUS NETWORK



---
[as of 2016 ]
City
Founded: 21.09.1566
Population: 319 550 (2015)
Location: Oryol
Network Stats
Operator: MUP "Tramvayno-Trolleybusnoe Predpriyatie" (MUP TTP)
System opened: 29.10.1968
Overhead length: 76,51 km. (one-way)
Number of routes: 5
All-time maximum number of routes: 12 (2003)
Number of passenger vehicles: 82
Network maps: 1968+

1968

1969

1972

1974

1977


1983

1985

1994

2003

2011

2012

2014

A dense trolleybus network. A well run operation with minimal headways. At the time of writing in 2016, however, the trolleybus system was in decline for a few recent years in a row. A number of well-established services were closed - the Lines 3, 9, 10, 12. The line to Severstal (SPZ) which serves a sizable industrial park in the northeast of the city is not used in revenue service since 2014. In 01-02.2016 there was an attempt to suspend service on the line to Zavokzalniy Posyolok and the Line 8. Acquisitions of new rolling stock abruptly stopped in 2013. Infrastructure shows signs of neglect. Provided this trend continues, there is a good chance the Oryol trolleybus system might close.
Rolling Stock
TrolZa-5265.00 Megapolis : 1 low floor
TrolZa-5264.05 Sloboda : 2
ZiU-682G-016.05, ZiU-682G-018 : 17
ZiU-682G, ZiU-682G-016 : 59
ZiU-682V : 3
Formerly operated:
ZiU-6205 : 7 articulated
ZiU-682B
ZiU-5D

Photos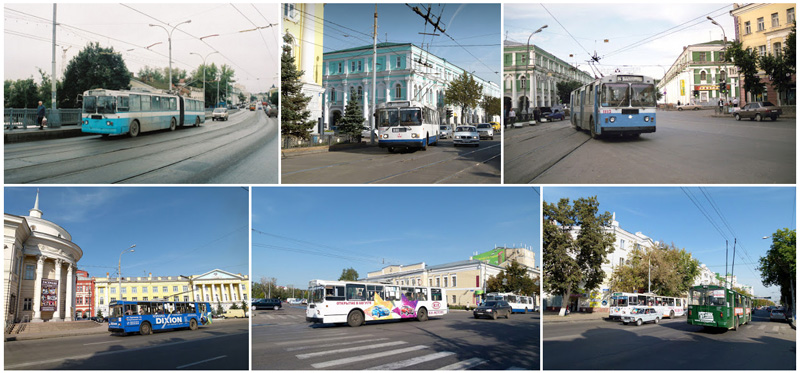 Links
Orlovskiy Transport (unofficial, Russian only):
orel-transport.ru

---
BACK
Last updated: 01-Aug-2016
© 2002 Author: Yury Maller - Usage of material found herein for public display is possible with authors' permission only.
Special thanks:

Pavel Zyuzin, Andrey Kireev - maps;
Sergey Sergeev, Pavel Zyuzin, Andrey Kireev, Aare Olander, Natalya Demina, Grigory Sanzharovskiy - photos.