PODOLSK
TROLLEYBUS NETWORK



---
[as of 2015 ]
City
Founded: 1559
City as of: 1781
Population: 223 896 (2015)
Location: Podolsk
A satellite town located 17 km. to the south of Moscow.
Network Stats
Operator: MUP Podolskiy Trolleybus
System opened: 01.05.2001
Overhead length: 34,4 km. (one-way)
Number of routes: 4
Number of passenger vehicles: 42
Network map: 2007

2013
Timetable: 2015
A trolleybus network primarily designed as a feeder to a Moscow-oriented commuter railroad service. While Lines 1, 2 and 3 provide combined plentiful service via the main trolleybus node, each of these lines offer rather sparse service individually. At the same time the Line 4 boasts a somewhat bloated service. The Lines 1, 2 and 3 suffer from major delays during rush hours due to standstill traffic jams along most part of the route.

History
01.05.2001 - Stantsiya Podolsk - Yubileynaya Ploschad via a two-way loop, however only the Line 1 opens due to absence of rolling stock
16.07.2001 - The Line 2 opens
01.09.2001 - The Depot opens
01.05.2004 - From Rynok to Kabelniy Zavod, the Line 3 opens
24.09.2007 - Stroyindustriya - Mashinostroiteley Ulitsa, the Line 4 opens
As of early 2010s construction of the line between Yuzhniy Posyolok and Kutuzovо was suspended; the line to the west of Stantsia Kutuzovskaya was planned:

Map

Rolling Stock
[ 2015 / total ]
ZiU-682 KR Ivanovo : 23 / 23 (2010-2014) three various types:

1

2

3
TrolZa-5265.00 Megapolis : 2 / 2 (2012, 2013) Low floor
TrolZa-5275.03 Optima : 2 / 2 (2012) Low floor
ZiU-682G-012, -016, -018 : 15 / 40 (2001-2008)
Photo Gallery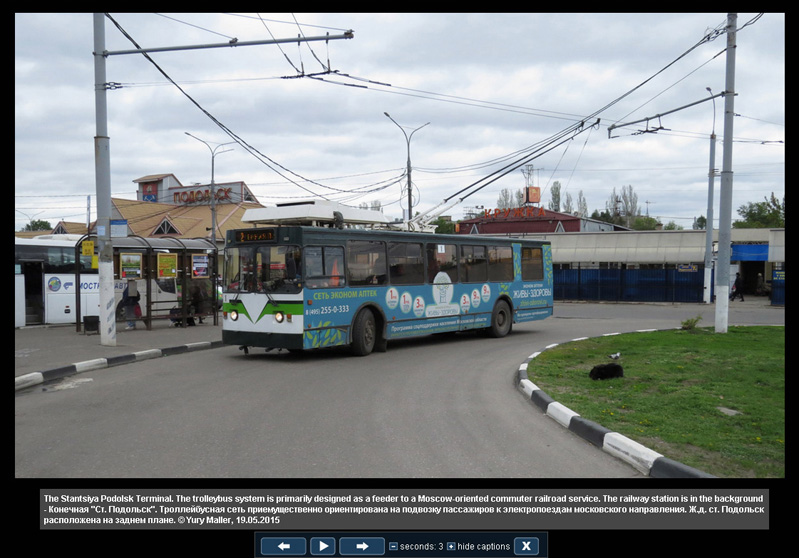 ---
BACK
Last updated: 20-Jul-2015
© 2002 Author: Yury Maller - Usage of material found herein for public display is possible with authors' permission only.
Special thanks:

AK (Aleksandr) - Maps