ESKISEHIR TRAMWAY NETWORK
---
[as of 2013 ]
City
Founded: ~1000 BC
Population: 648 396 (2011)
Location: Eskisehir

Network Stats
Operator: EsTram
Tram system opened: 24.12.2004
Gauge: 1000 mm.
Track length: 29,9 km. (one-way)
Number of routes: 2
Number of stations: 26
Annual ridership: 13 500 000 (2010)
Number of passenger vehicles: 23
Number of vehicles required for service: 21

Network map: 2013
Intervals / car usage: 2013
An extremely busy and popular tramway network. Trams aoperate on minimal intervals.
Pre-boarding fare collection with fenced-off platforms in the middle of streets.
The outer 900 m. segment of the Opera line is single track, which puts constraints on intervals on the Line 2.

Rolling Stock
A total of 23 vehicles:
Bombardier Flexity Outlook (2003,2004,2007)

Photos on map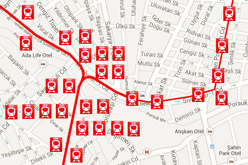 City Center
(22.04.2013)
Line 1 to Uluonder
Line 2 to Opera
Line 1 to Otogar (Bus Station)
Line 2 to Osmangazi Universitesi
---
Eskisehir Complete Photo Archive
Last updated: 5-Jul-2013
© 2002 - Usage of material found herein for public display is possible with authors' permission only.