IZMIR LIGHT METRO NETWORK
---
[as of 2013 ]
City
Founded: ~1200 BC
Population: 3 401 994 (2012)
Location: Izmir

Network Stats
Operator: İzmir Metro A.Ş
System opens: Üçyol - Bornova (22.05.2000); Bornova - Evka-3 (20.03.2012); Üçyol - Hatay (29.12.2012)
Power collection: 3rd rail
Gauge: 1435 mm.
Track length: 16,1 km. (two-way)
Track length by right-of-way type: 9,0 km (tunnel); 2,3 km (elevated); 4,8 km (surface)
Number of routes: 1
Number of stations: 14
Running time: 24 min.
Daily ridership: 173 000 (2013)
Number of passenger vehicles: 62
Number of vehicles required for service: 49-50
Cars per train: ABB-AdTranz: 5; CSR Zhuzhou: 4

Network map: 2013
Hours of operation and intervals: 2013
A single light metro line. The line is on 100% segregated right-of-way. The first phase was built predominantly on the surface using a former railroad right-of-way, with a short underground segment in the city center. The following phases are being built exclusively underground. The system is popular, with trains well loaded. The light metro line is supplemented with the two rapid S-bahn lines known as İzban, often considered a part of the metro system. Photography on the system is officially forbidden.

Rolling Stock
A total of 62 vehicles:
ABB-AdTranz

30 cars (1999)
CSR Zhuzhou

32 cars (2011)
Photos on map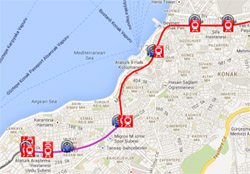 Photo review of the line Hatay - Evka-3
(16-17.07.2013)
İzban
---
Last updated: 14-Aug-2013
© 2002 - Usage of material found herein for public display is possible with authors' permission only.