KAYSERI TRAMWAY NETWORK
---
[as of 2013 ]
City
Founded: ~3000 BC
Population: 844 656 (2011)
Location: Kayseri

Network Stats
Operator: KayseRay
Gauge: 1435 mm.
Tram system opened: 01.08.2009
Track length: 40 km. (one-way)
Number of routes: 1
Number of stops: 28
Total running time: 44-46 min.
Daily ridership: 89 315 (2012)
Number of passenger vehicles: 37
Number of vehicles required for service: ~24+

Network map: 2013
Timetable: 2013
A highly popular continuously growing conventional tram system, built with some elements of a light rail. Sharp-looking AnsaldoBreda Sirio trams give the system a modern vibe and a highly positive image. 2-car trains and single cars are operated at identical intervals, which creates some crowding. New cars are on order. The Phase II of the system is under construction. The Phase III, a part of the 2nd line, is in active planning. Pre-boarding fare collection with fenced-off platforms. All stops have numbers assigned to them. These numbers are indicated on tram's route displays to identify a destination.

Rolling Stock
A total of 37 vehicles (+21 to be delivered in 2013) :
AnsaldoBreda Sirio

22 (2008-2009), 15 (2011), 21 (2013)

Photos on map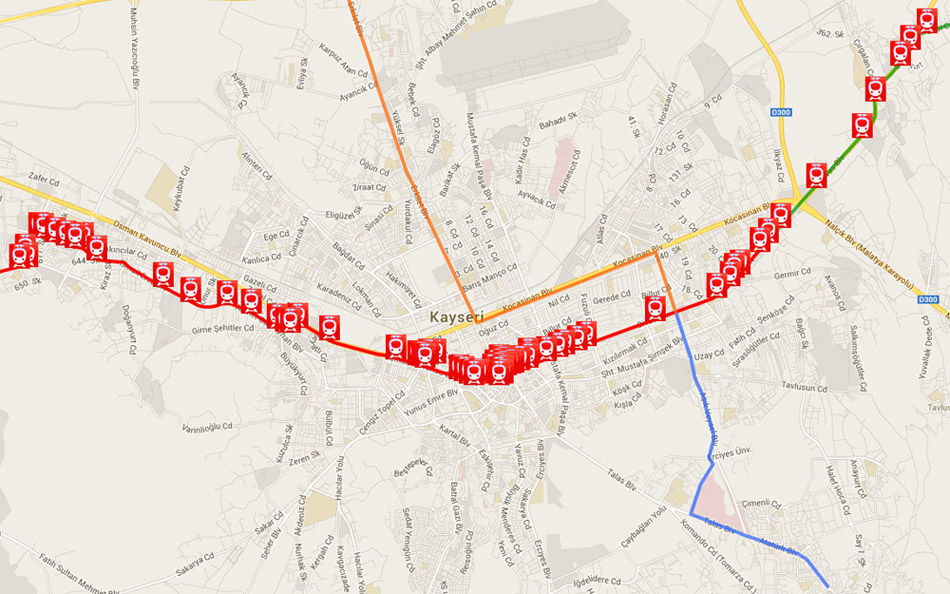 Phase I - West: Organize Sanayi - Cumhuriyet Meydani
(27.07.2013)








































Phase I - East: Cumhuriyet Meydani - Doğu Terminali



























Phase II: Doğu Terminali - İldem

















---
Kayseri Complete Photo Archive
Last updated: 20-Aug-2013
© 2002 - Usage of material found herein for public display is possible with authors' permission only.