KONYA TRAMWAY NETWORK
---
[as of 2013 ]
City
Founded: ~7000 BC
Population: 1 073 791 (2011)
Location: Konya

Network Stats
Operator: Konya Büyükşehir Belediyesi
Gauge: 1435 mm.
Tram system opened: Alaaddin - Cumhuriyet (09.1992); - Otogar (1995); - Kampüs (1996); - through University (2006)
Track length: 40 km. (one-way)
Number of routes: 1
Number of stops: 35
Total running time: 56 min.
Daily ridership: up to 100 000 (2012)
Number of passenger vehicles: 60
Number of vehicles required for service: ~40

Network map: 2013
Timetable: Winter

Summer
An extremely busy and popular single tramway corridor extending from the city center to the northern suburbs, including the university campus. Trams operate on intervals as low as 3 min., hence, the line effectively acts as a metro line. The short-turn Line 1 Alaaddin - Otogar (the Bus Station) is no longer operated, with the Otogar loop used for cars' storage. Only the Line 2 that serves the entire length of the corridor is operated. The segment through the university campus is operated when classes are in session, otherwise the last stop for all trips on the Line 2 is the Kampüs stop. There is a pre-boarding fare collection at busiest stops, with enclosed glass tram stop shelters equipped with doors that activate automatically upon trams' arrival. There is an on-board fare collection at minor stops, with all boardings done through the front door. Rides within the university campus are free, however, the fare is collected upon exiting the free zone by way of passengers having to change trams and to pass through toll turnstiles. Operation is sometimes uneven due to low headways, long travel times and no layover at the southern end of the line that constitutes a continuous loop. All stops are on request. By-passing minor stops is allowed even if there are passengers at the stop but no exits, for service recovery in case of delays. Second hand ex. Cologne Duewag GT8 cars from the 1960s are used. Most cars are outfitted with air-conditioning - these are usually the first to be pressed into service, hence, on Sundays most non-air-ocnditioned cars are stored. 60 new Škoda 28T cars are to be delivered to replace old Duewag cars.

Rolling Stock
A total of 60 vehicles:
Duewag GT8

(1963-1965), ex. Cologne (1989-2004) most with AC added

Photos on map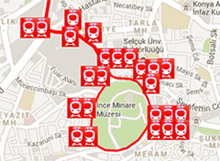 Alaaddin - Otogar
(28.07.2013)
Otogar - Kampüs
---
Konya Complete Photo Archive
Last updated: 20-Aug-2013
© 2002 - Usage of material found herein for public display is possible with authors' permission only.