TACOMA TRAMWAY NETWORK



---
[as of 2014 ]
City
Founded: 12.11.1875
Population: 198 397 (2010)
Location: Tacoma
A heavily industrial port city in the state of Washington.
Network Stats
Operator: SoundTransit
The first streetcar system oerated: 1888 - 08.04.1938
Modern streetcar system opened: 22.08.2003
Overhead length: 4,18 km. (one-way)
Number of routes: 1
Annual ridership: 1 024 053 (2012)
Number of passenger vehicles: 3
Number of vehicles required for service: 2
General interval: 12 min. (2 cars used)
Early AM, late PM and Sundays interval: 24 min. (1 car used)
Network map: 2014
A single line with 5 stops constitutes Tacoma's streetcar starter project. The line connects the Sounder Seattle – Tacoma commuter rail station, the sports arena and adjacent parking lots, to the downtown area. The ride is free. The southern part of the line is single track; the northern part is double track. Further extensions are being actively planned.

Rolling Stock
A total of 3 vehicles:

Škoda 10T

(2003)

Photos on map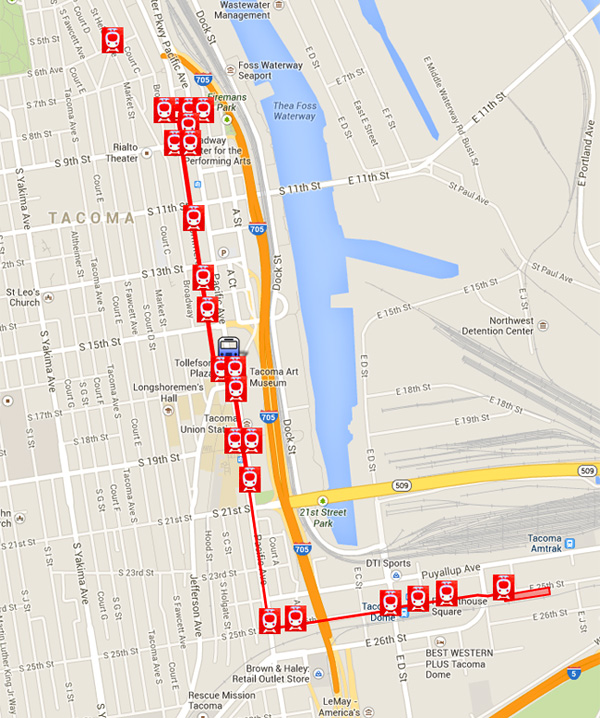 ---
BACK
Last updated: 14-Jan-2014
© 2002 Author: Yury Maller - Usage of material found herein for public display is possible with authors' permission only.