KARAKUL
UNFINISHED TROLLEYBUS PROJECT



---
[ as of 2018 ]
City
Incorporated as town: 1980
Population: 20 900 (2005)
Location: Karakul
A town in Bukhara Region of Uzbekistan, near the border with Turkmenistan.
Network Stats
System under construction: 1995-1997
Total planned overhead length: 10,8 km. (one-way)
Number of proposed routes: 1
Rolling stock: 2 ZiU-682G
The Karakul trolleybus project was conceived in 1994. This was a local idea by the town's khokim (mayor), and not a product of a known nation-wide program from 1995-2001 to provide trolleybus service in every city in Uzbekistan with population of more than 100 000 people. The Karakul project slightly predates the national program, and the town of Karakul with population of 20 000 did not conform to the population quota needed to secure national backing. The Karakul project did not depend on public funds, and was developed with capital provided by local individuals with special interests. Construction started in 1995. The trolleybus line was to begin at the town's entrance from Turkmenistan, at the southern administrative border, and continue via the Turkmenabad (ex. Chardzhou) - Bukhara Highway, via Avtovokzal (the Bus Station), via the town's main Ulugbeka Ko'chasi, via Bozor (the Market), to the loop at the town's border to the west of the market. Overhead support poles were installed along the entire length of the line. The overhead itself was procured, but never mounted, the reels with wire were stored near the town hall. Two trolleybuses were purchased. One vehicle made it as far as the neighboring city of Bukhara, while the other remained in Tashkent. The depot was never planned or built. The construction ceased in 1997 upon removal of the mayor from the office. Overhead support poles were cut down within the segment between Avtovokzal and Rynok in the early 2000s, while poles via the Turkmen Highway were dismantled upon road widening in 2013. At the time of writing there is no physical evidence of the trolleybus project left anywhere in town.
The town of Karakul mainly consists of village-style private housing, with almost no urban structures present that would provide high density of population, and would thus justify introduction of higher passenger capacity public transport such as trolleybuses. If trolleybus project was to be completed, the town of Karakul would become the 4th smallest settlement with trolleybuses in the former USSR territory after Solonceni (Moldova), Novaya Bukhtarma (Kazakhstan) and Uglegorsk (Ukraine).
All of the above data, including key dates, trolleybus line's routing and the progress of the project - were confirmed by the town's head architect at the time of the trolleybus construction.
Network map: 1997

Photos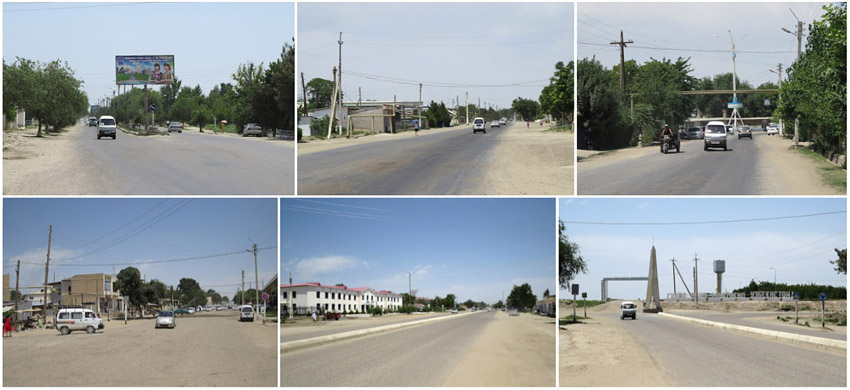 ---
BACK
© 2002 - 2018
Author: Yury Maller - Usage of material found herein for public display is possible with authors' permission only.
Last updated: 09-Oct-2018
Special thanks:

Pavel Zyuzin