NUKUS
TROLLEYBUS NETWORK



---
[ as of 2019 ]
City
Founded: 1860s
Incorporated: 1932
Population: 316 300 (2019)
Location: Nukus
A capital of Karakalpakstan Republic within Uzbekistan. A mix of modern Soviet-style apartment blocks and traditional Middle Eastern village developments. The city is mostly known for the Savitsky State Art Museum, which is based on the Russian avangard art collection exiled from the central Russia during the Soviet times.
Network Stats
System opened: 14.12.1991
System closed: 07.2007
Total overhead length: 31,8 km. (one-way)
Number of routes: 2
Number of vehicles: 22 (ever delivered)
The last Soviet era-designed trolleybus system in Uzbekistan. The 15.7-km long (one-way) Line 1 between Gone Kala terminus (the Old Town, also known as the Old Bazaar) and Zh.D. Vokzal (the Main Railroad Station), as well as the Depot opened in 1991. The 15.6-km long interurban line to the suburban town of Kizketken opened in the late 1990s. The second extension was a product of the nation-wide program of trolleybus development in every city in Uzbekistan with population over 100 000 inhabitants. Some sources suggest that the 25-km long interurban line to the city of Khojayli, extending southeast from the Gone Kala terminus, was also planned. Stable operation continued until the early 2000s, intermittent operation until 07.2007. The system stopped running due to overwhelming debt. The infrastructure remained intact for a few years after the stoppage. The exact date when the undertaking was dissolved is unknown.
Network map in 2007: Google

Schematic

Rolling Stock
ZiU-682G and ZiU-682V 22 trolleybuses

16 ZiU-682G vehicles 001-016 were delivered from Russia starting from 1991. In addition 4 Tashkent-built TrolZa-Aviaz vehicles in ZiU-682V bodies 020, 021, 027, 028; as well as 2 second-hand ZiU-682G vehicles 022, 023 were delivered from Tashkent in the early 2000s. At the time of the system's closure 3 vehicles only remained operable, all Tashkent deliveries. Vehicles remained at the depot as late as 2013, even though in various state of disrepair.
Photos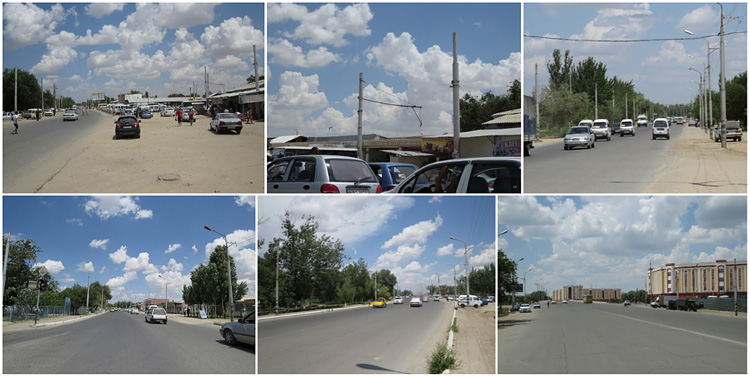 ---
BACK
© 2002 - 2019
Author: Yury Maller - Usage of material found herein for public display is possible with authors' permission only.
Last updated: 30-Oct-2019
Special thanks:

Pavel Zyuzin